Abstract: S1611
Type: Oral Presentation
Presentation during EHA24: On Sunday, June 16, 2019 from 09:00 - 09:15
Location: Elicium 2
Background
A number of clinical, serological, cytomorphological, immunological and molecular parameters have been reported to be of prognostic significance in patients with advanced systemic mastocytosis (AdvSM). To date, the independent prognostic value of most variables and proposed prognostic scores have been derived from relatively small sets of patients, and they have not been confirmed or validated.
Aims
In this study, we evaluated a large cohort of clinically and genetically well characterized AdvSM patients who were enrolled within the 'German Registry on Disoders of Eosinophils and Mast Cells' with the aim to establish a prognostic score integrating both clinical and molecular predictors. The proposed mutation-adjusted risk score (MARS) was subsequently validated in an independent cohort of AdvSM patients derived from several centers within the European Competence Network on Mastocytosis (ECNM).
Methods
A total of 383 AdvSM patients were included. For the training set, 231 patients with AdvSM were recruited within the 'German Registry on Disorders of Eosinophils and Mast Cells' between 2003 and 2018, with a final update performed in November 2018. The diagnosis of AdvSM was established according to the WHO classification. Molecular analyses were performed at diagnosis of AdvSM (prospectively or retrospectively).  Targeted Next-Generation Sequencing (NGS) was performed to investigate mutation status of KIT and 32 myeloid genes.
Results
The multivariate model identified five independent predictors of survival: age > 60 years (HR 2.4, CI 1.4-5.0, P < .003), hemoglobin < 10 g/dL (HR 2.0, CI 1.3-3.0, P = .002), platelets < 100 x 109/L (HR 1.7, CI 1.1-2.5, P= .02), presence of one high molecular risk gene mutation (ie, in SRSF2, ASXL1, and/or RUNX1) (HR 2.5, CI 1.6-4.5, P < .0001), and of ≥ 2 high molecular risk geme mutations (HR 4.4, CI 2.1-7.3, P < .0001). For assignment of individual scores, we divided the HR value of each variable by the median value of all variables. Accordingly, a weighted score of 1 was assigned to age > 60 years, hemoglobin < 10 g/dL, platelets < 100 x 109/L, and S/A/R 1 mutation, whereas a score of 2 was assigned to S/A/R ≥ 2 mutations. These weighted scores were used to generate three risk groups which comprise the MARS: low-risk, 0 to 1; intermediate risk, 2; high-risk, 3 to 5 with median OS not reached, 3.9 years (95% CI 2.1 to 5.7 years) and 1.9 years (95% CI 1.3 to 2.6 years) (P < .0001) (Figure 1A), respectively. The MARS was independent of the World Health Organization (WHO) classification and was confirmed in an independent validation set (Figure 1B). The MARS was also predictive for leukemia-free survival (P < .0001). On basis of receiver operating characteristic curve analysis, the C-index was 0.42 for the WHO classification and 0.81 for the MARS.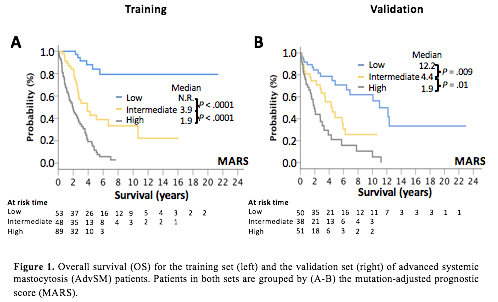 Conclusion
We conclude that the WHO classification remains the pivotal diagnostic and prognostic tool for subtyping of SM into indolent SM and AdvSM. The MARS is a WHO-independent and complementary tool for the heterogeneous cohort of patients with AdvSM by defining three risk groups based on a five-parameter prognostic score which may improve upfront treatment stratification for these rare hematologic neoplasms.
Session topic: 16. Myeloproliferative neoplasms - Clinical