Abstract: S1598
Type: Oral Presentation
Presentation during EHA24: On Sunday, June 16, 2019 from 08:15 - 08:30
Location: Hall 5
Background
The prognosis for patients with diffuse large B-cell lymphoma (DLBCL) who are refractory to treatment with standard front-line rituximab (R)-based immunochemotherapy is poor, and there are currently no clinical tools to identify these patients prior to initiation of treatment. This exploratory analysis investigated the primary refractory population from the phase 3 GOYA trial (NCT01287741), an open-label, randomized study of the efficacy and safety of R-CHOP versus obinutuzumab (G)-CHOP in previously untreated patients with DLBCL.
Aims
To identify patients from GOYA that are primary refractory to immunochemotherapy, describe the lymphoma characteristics for this population, and identify risk factors for primary refractoriness.
Methods
In GOYA, patients with previously untreated DLBCL were randomized 1:1 to receive either G- or R-CHOP (G 1000 mg cycle [C]1 day [D]1, 8 and 15, and C2–8 D1; R 375 mg/m2 C1–8 D1; CHOP 6 or 8 cycles every 21 days). Primary refractory patients were defined as those with no metabolic response or progressive metabolic disease (PMD) at end of treatment (EOT) by Independent Review Committee using Lugano criteria (PET-based assessment), or progression (PD)/death due to PD before EOT by investigator. The association between baseline patient and disease characteristics and primary refractoriness was analyzed using univariate Cox regression; any covariates that were deemed significant (p≤0.15, Wald test) were then assessed via multivariate analysis using backward elimination as the primary analysis method (significance cut-off p<0.05).
Results
Of 1418 patients in the GOYA study, 113 (8.0%) were identified as primary refractory (median age 61 years [range 21–85]; 54% male). At baseline, more primary refractory patients presented with unfavorable disease characteristics versus the overall GOYA population (see Table). Median overall survival (OS) for the primary refractory group was 14 months, with a 2-year OS of <30% compared with 83.9% for those receiving G-CHOP and 83.6% for those receiving R-CHOP in the overall GOYA population. In a univariate analysis, multiple baseline covariates were significantly associated with primary refractoriness (p≤0.15; Table); tumor metabolic total volume (TMTV) remained the only independent adverse prognostic factor in multivariate analysis (p=0.0094). Across the 4 TMTV quartiles (Q), the proportion of primary refractory patients (33/284; 11.6%) found in Q4 (TMTV 841–8282 mL) was almost twice as high as that in the other quartiles (18/283 [6.4%] in Q1 [1–103 mL], 4.9% [14/283] in Q2 [102–336 mL], 6.3% [18/286] in Q3 [336–842 mL]), and a receiver operating characteristics (ROC) analysis identified a TMTV >523.8 mL as the optimal cut-off for identification of patients with primary refractory disease.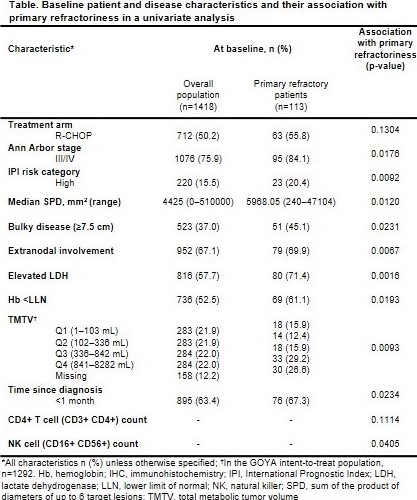 Conclusion
TMTV was determined to be the only independent prognostic factor for primary refractoriness in previously untreated patients with DLBCL, suggesting that responsiveness to immunochemotherapy is associated with tumor burden (as measured by TMTV). High TMTV was associated with very poor survival outcomes. Considering TMTV as a prognostic factor may assist in the identification of patients with high-risk disease who may benefit from an alternative therapeutic strategy.
Session topic: 19. Aggressive Non-Hodgkin lymphoma - Clinical
Keyword(s): Cancer immunotherapy, Chemorefractory, Diffuse large B cell lymphoma, Obinutuzumab