Abstract: S141
Type: Oral Presentation
Presentation during EHA24: On Friday, June 14, 2019 from 11:45 - 12:00
Location: Hall E106
Background
While regular red blood cell (RBC) transfusions extend the lifespan of patients with transfusion-dependent β-thalassaemia (TDT), iron overload and end-organ damage can result. The curative alternate, allogeneic haematopoietic stem cell (HSC) transplantation, is limited by donor availability and transplant-related risks. LentiGlobin gene therapy in TDT is under investigation as a treatment option that may overcome some of these limitations. LentiGlobin gene therapy contains autologous CD34+ cells transduced ex vivo with the BB305 lentiviral vector (LVV) encoding β-globin with a T87Q substitution.
Aims
To evaluate the safety and efficacy of LentiGlobin gene therapy in adolescents and adults with TDT (≥ 100 mL/kg/yr of RBCs or ≥ 8 RBC transfusions/yr) in the phase 1/2 Northstar study (NCT01745120).
Methods

HSCs were mobilised with G-CSF and plerixafor and enriched CD34+ cells were transduced with the BB305 LVV. Patients received myeloablative busulfan, after which transduced HSCs were infused. Primary efficacy endpoints were sustained production of ≥ 2 g/dL of gene therapy-derived haemoglobin (Hb), HbAT87Q, between months 18-24 and transfusion independence (TI; weighted average Hb ≥ 9 g/dL without RBC transfusions for ≥ 12 months). Patients were monitored for 2 years and offered participation in the long-term follow-up study, LTF-303.
Results
Eighteen patients with TDT (median age 20 [min-max: 12-35] years) were treated in Northstar. As of 14 September 2018, median follow-up was 38.9 (29.3-48.1) months. Median time to neutrophil and platelet engraftment was 18.5 (14-30) and 39.5 (19-191) days, respectively. There was no graft failure. Grade ≥ 3 non-haematologic adverse events (AEs) in ≥ 25% of patients were stomatitis, febrile neutropenia, and pharyngeal inflammation. Serious AEs reported in ≥ 2 patients were thrombosis (n=2) and liver veno-occlusive disease (n=2), all of which resolved. The vector integration site profile in all patients remains polyclonal.
Sixteen of 18 (89%) patients met the primary endpoint of sustained production of ≥ 2 g/dL of HbAT87Q from months 18-24. Eight of 10 (80%) patients with non-β0/β0 genotypes achieved transfusion independence with a median weighted average Hb during TI of 10.2 (min-max: 9.3-13.2 g/dL). TI has been maintained for a median of 38 (min-max: 21- 44) months. The median time to last RBC transfusion after LentiGlobin infusion was 2.0 (min-max: 0.3-5.8) months. In the 8 patients who achieved TI, median (min-max) total Hb, RBC counts, and mean corpuscular volume (MCV) were 10.8 (9.7-14.1) g/dL, 4.1 (2.8-5.8) x1012/L, and 83.0 (74.2-108.6) fL at last study visit.
Of 8 patients with β0/β0 genotypes, 3 (38%) achieved TI for 16-21 months during any interval post-infusion. Median time to last RBC transfusion was 19.4 (min-max: 1.8-19.8) months. At last study visit, median (min-max) total Hb, RBC counts, and MCV in these 3 patients were 10.3 (9.1-10.9) g/dL, 4.2 (3.4-4.4) x1012/L, and 82.8 (78.3-83.8) fL.
Liver iron concentration as measured by magnetic resonance imaging in patients who achieved TI is shown in Figure 1. Patients re-initiated iron chelation therapy at a median of 13 (min-max: 2-16) months after infusion.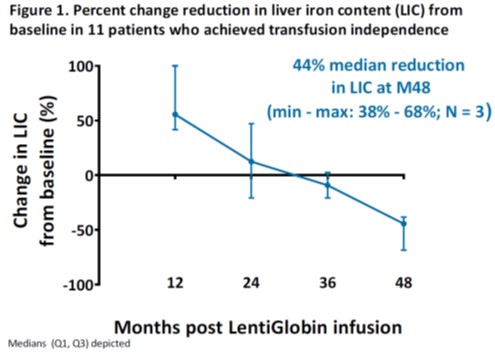 Conclusion
With up to 4 years of follow-up, we observed durable transfusion independence in 8/10 and 3/8 patients with non-β0/β0 genotypes and β0/β0 genotypes, respectively, and a safety profile that is consistent with myeloablative conditioning. Two ongoing Phase 3 studies, Northstar-2 and Northstar-3, are evaluating refined manufacturing of LentiGlobin with the goal to improve patient outcomes.
Session topic: 27. Thalassemias
Keyword(s): Autologous hematopoietic stem cell transplantation, Beta thalassemia, Gene therapy