Abstract: S107
Type: Oral Presentation
Presentation during EHA24: On Friday, June 14, 2019 from 12:00 - 12:15
Location: Auditorium
Background
Ibrutinib (ibr), a first-in-class, once-daily inhibitor of Bruton tyrosine kinase (BTK), is approved in the EU and other regions for treatment of chronic lymphocytic leukemia (CLL). RESONATE-2 is a phase 3 study comparing the efficacy and safety of first-line ibr vs chlorambucil (chl) in older patients (pts) with CLL/small lymphocytic lymphoma (SLL). As ibr is given as continuous therapy, long-term efficacy and safety data in pts receiving ibr are critical to inform clinical practice.
Aims
To report long-term data over a median of 5 years of follow up from the RESONATE-2 study of first-line ibr in CLL/SLL.
Methods
RESONATE-2 is a phase 3, open-label, international, randomized study (PCYC-1115/1116; NCT01722487, NCT01724346). Pts ≥65 years old with previously untreated CLL/SLL without 17p deletion (N=269) were randomly assigned 1:1 to receive ibr 420 mg once daily continuously until disease progression or unacceptable toxicity or chl 0.5–0.8 mg/kg for up to 12 cycles. Endpoints included progression-free survival (PFS), overall survival (OS), overall response rate (ORR), and safety. In long-term follow up, efficacy was assessed by investigator per International Workshop on Chronic Lymphocytic Leukemia (iwCLL) 2008 criteria with modification. Adverse event (AE) prevalence rates are reported.
Results
Baseline characteristics were well balanced across treatment arms, as previously described. After a median follow-up of 5 years (range, 0.1–66 months), the PFS benefit was sustained for ibr vs chl (hazard ratio [HR] 0.15 [95% confidence interval (CI): 0.10–0.22]). PFS estimates at 60 months were 70% for ibr vs 12% for chl. Ibr also resulted in improved OS vs chl; 83% vs 68% at 60 months, respectively, even with 57% of pts crossing over from chl to ibr after progression. Ibr improved PFS compared to chl in pts with unmutated immunoglobulin heavy chain variable region (IGHV) (HR 0.11 [95% CI: 0.06–0.19]) and in pts with 11q deletion (HR 0.03 [95% CI: 0.01–0.11]). As a composite, pts with high-risk genomics (unmutated IGHV, 11q deletion, and/or TP53 mutation) had superior outcomes with ibr compared with chl (PFS: HR 0.08 [95% CI: 0.05–0.15]; OS: HR 0.37 [95% CI: 0.18–0.74]). With ibr, ORR including partial response with lymphocytosis was 92% and complete response (CR/CRi) rate increased over time to 30% (increased from 11% CR/CRi at primary analysis [median follow up 18 months]). The most common grade ≥3 AEs included neutropenia (13%), pneumonia (12%), hypertension (8%), anemia (7%), hyponatremia (6%), atrial fibrillation (5%), and cataract (5%); rates of most events decreased over time. Dose reductions due to grade ≥3 AEs decreased over time (5% of pts in years 0–1, 2% in years 1–2, 3% in years 2–3, 1% in years 3–4, and 0 in years 4–5). AEs of any grade leading to ibr discontinuation occurred in 7% of pts in year 0–1, 6% in years 1–2, 5% in years 2–3, 6% in years 3–4, and 1% in years 4–5. Pts responded to subsequent CLL therapies, including chemoimmunotherapy and alternate kinase inhibitors following ibr discontinuation. Ibr benefit continues in 58% of pts who remained on therapy.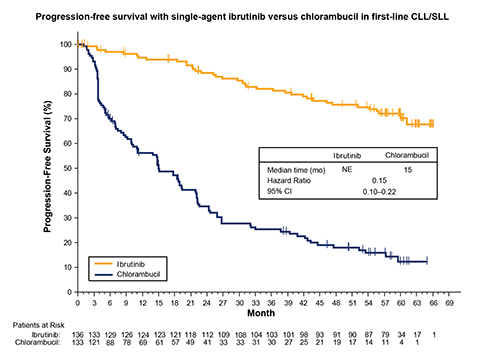 Conclusion
Single-agent ibr had sustained PFS and OS benefit, including for pts with high-risk genomic features, in the longest follow-up to date from a phase 3 study of first-line BTK-directed therapy. Responses to ibr improved over time with nearly three-fold more pts achieving CR/CRi with long term follow up. With up to 66 months follow up, more than half of pts remain on long-term continuous ibr treatment. No new safety signals emerged.
Session topic: 6. Chronic lymphocytic leukemia and related disorders - Clinical
Keyword(s): Chronic lymphocytic leukemia, Ibrutinib, Targeted therapy