Abstract: S104
Type: Oral Presentation
Presentation during EHA24: On Friday, June 14, 2019 from 12:30 - 12:45
Location: Hall 5
Background
Up to 50% of hairy cell leukemia (HCL) patients relapse after purine analogs. We identified the BRAF-V600E kinase mutation as the genetic cause of HCL (Tiacci et al., NEJM 2011). We then documented, in 26 relapsed/refractory patients treated with the oral BRAF inhibitor vemurafenib for a median of 16 weeks, 96% of overall responses (including 35% complete remissions - CR), obtained after a median of 8 weeks (Tiacci et al., NEJM 2015). However, residual bone marrow (BM) HCL cells persisted even in CR patients (5-10% cells) and the median relapse-free survival among all responding patients was 9 months.
Aims
Since HCL strongly expresses CD20, rituximab could improve the efficacy of BRAF inhibition by targeting leukemic cells resistant to vemurafenib.
Methods
In this academic, phase-2, single-arm, single-center trial (EudraCT 2014-003046-27), relapsed/refractory HCL patients received vemurafenib (960 mg b.i.d.) for 8 weeks and concomitant rituximab (375 mg/m2 i.v.) every 2 weeks. Rituximab was then given as consolidation 4 times every 2 weeks after the end of vemurafenib. CR required normal blood counts, no palpable splenomegaly, and no leukemic cells at morphologic analysis of BM biopsies and blood smears.
Results

We enrolled 31 patients (median age: 59 years) with a median of 3 previous therapies, including 8 primary refractory cases (26%). Toxicity was mostly of grade 1-2, without myelosuppression, and overlapped that of either drug when used alone.
Strikingly, a CR was achieved by 26/27 (96%) patients evaluable for efficacy, including 2 patients with incomplete platelet recovery at the end of treatment who however normalized the platelet count soon after; and 2 patients with incomplete resolution of splenomegaly who nonetheless remain in otherwise continuous CR at 22.5 and 25 months from the end of treatment. Among the 26 CR cases, all previously treated with purine analogs, there were also some patients previously refractory to rituximab (n=5) and/or who had relapsed after a prior BRAF inhibitor (n=7; 5 obtained a short-lived PR and 2 a CR after treatment with the BRAF inhibitor). Notably,  a CR was obtained after just 4 weeks of vemurafenib and two concomitant doses of rituximab in 15/24 evaluable patients (63%). Minimal residual disease (MRD) by allele-specific PCR (sensitivity: 0.05% BRAF-V600E alleles) was absent in the BM of 17/26 (65%) patients; in 8/17 patients (47%), MRD clearing was obtained before rituximab consolidation.
Progression-free survival (PFS) in the 29 evaluable patients was 83% at a median follow-up of 29.5 months (range: 2-45) (Fig. 1A). Progressions (n=5) always occurred in cases who were MRD-positive, including 3/5 patients whose immediate prior treatment was a BRAF inhibitor (leading to PR in all 3 cases). Indeed, PFS was significantly longer in MRD-negative CR cases (100% in 17 patients at 30.5 months of median follow-up) than in MRD-positive CR cases (44% in 9 patients at a median follow-up of 24.5 months) (p=0.001; Fig. 1B). In subsequent BM evaluations, 16/17 (94%) CR patients maintained a MRD-negative status after a median of 22.5 months (range 12.5-36.5); in the remaining patient, MRD reappeared 12.5 months later but he remains in continuous CR at 38 months after the end of treatment.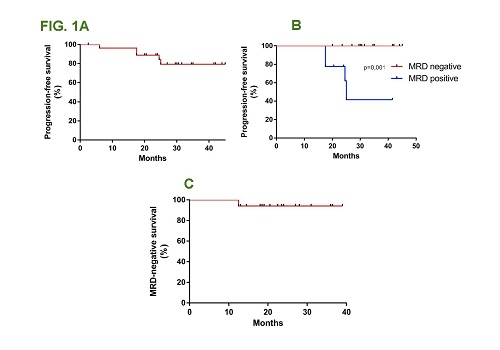 Conclusion
Vemurafenib plus rituximab is a brief, safe and non-myelotoxic regimen that induces MRD-negative durable responses in the majority of relapsed/refractory HCL patients. Randomized testing of this regimen against the chemotherapy-based standard of care in the frontline setting is warranted.
Session topic: 18. Indolent and mantle-cell non-Hodgkin lymphoma - Clinical
Keyword(s): Clinical trial, Hairy cell leukemia, Kinase inhibitor, Targeted therapy