Abstract: S101
Type: Oral Presentation
Presentation during EHA24: On Friday, June 14, 2019 from 11:45 - 12:00
Location: Hall 5
Background
Rituximab (R)-chemotherapy (chemo) induction plus R maintenance is an established treatment for indolent non-Hodgkin lymphoma (iNHL). However, the optimum duration of R maintenance is unknown. A subcutaneous (SC) form of R (R-SC) is now available.
Aims
MabCute (NCT01461928) is an international, randomised, open-label Phase III trial evaluating the efficacy and safety of prolonged R-SC maintenance after standard R-SC-based induction and maintenance in relapsed or refractory (R/R) iNHL patients (pts). We report the results of the primary analysis.
Methods
Eligible pts were aged ≥18 years with R/R CD20+ follicular lymphoma (grade [Gr] 1, 2 or 3a) or other iNHL (Waldenström's macroglobulinemia, lymphoplasmacytic lymphoma or marginal zone lymphoma). Pts received 8 cycles of R (375mg/m2 IV in cycle 1 then 1400mg SC in cycles 2–8) in combination with 6–8 cycles of chemo as induction. Responders (CR/PR) then received a 2 year maintenance comprising 12 cycles of 1400mg R-SC every 8 weeks. Responding pts (CR/PR) were then randomised 1:1 to prolonged R-SC maintenance or observation until PD. The primary endpoint was PFS from randomisation (PFSrand) in all randomised pts (ITTrand). Sample size calculation assumed a median PFSrand of 38 months in the R-SC arm and 23 months in the observation arm. On this basis, 129 PFSrand events were needed to achieve 80% power for the log-rank test at a significance level of 5%. To observe this number of events, approximately 300 pts were needed and followed for ≥15 months. In the observation arm, Gr 1 and 2 adverse events (AEs) were collected until 28 days after the last R administration, leading to an imbalance in AE collection between the randomised arms. End of study was defined as the time when all randomised pts had been followed for ≥15 months, or earlier if at least 129 PFS events had been observed.
Results
Of 693 pts who entered the induction part of the study, 276 were randomised to prolonged maintenance or observation (n=138 in both arms). Pt and disease characteristics were generally well balanced (Table 1). A total of 46 PFSrand events were observed in the randomised groups (19 in maintenance and 27 in observation), corresponding to 36% of the 129 events needed to achieve 80% power. Median PFSrand was not reached in either arm (Figure 1) and the difference in PFSrand between the two treatment arms was not statistically significant (p=0.410, stratified log rank test). At the end of the study, 10 pts in the maintenance group and 8 pts in the observation group had died. Median OS was not reached. Gr >3 AEs (34.8% vs 29.0%) and serious AEs (22.5% vs 23.2%) were reported with a similar frequency in the maintenance and observation arms, respectively. Common (≥2%) Gr ≥3 AEs were: neutropenia (8.7% vs 5.8%); pneumonia (5.1% vs 2.9%); decreased neutrophil count (2.2% vs 0%); and hypertension (2.2% vs 0%). The most common serious AE was pneumonia (5.8% vs 2.9%). Five pts (3.6%) in each arm died due to an AE. In the maintenance group, fatal AEs were: pneumonia; septic shock; acute myocardial infarction; Crohn's disease (starting during initial maintenance); and abdominal infection and diverticulitis (same pt). ORR (CR/PR) at end of induction (EOI) was 84.7%, and 77 of 357 pts with a PR at EOI achieved a CR by end of initial maintenance (conversion rate: 21.6%).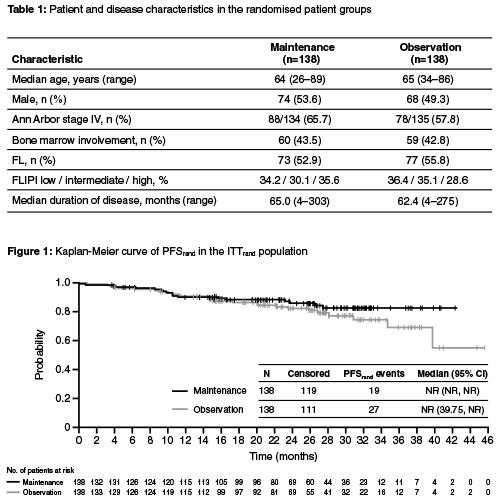 Conclusion
MabCute was unable to fully address the primary study endpoint of PFSrand due to the limited number of events observed. The safety profile of R-SC during prolonged maintenance was consistent with the known profile of R-SC.
Session topic: 18. Indolent and mantle-cell non-Hodgkin lymphoma - Clinical
Keyword(s): Indolent non-Hodgkin's lymphoma, Maintenance, Rituximab