Abstract: S100
Type: Oral Presentation
Presentation during EHA24: On Friday, June 14, 2019 from 11:30 - 11:45
Location: Hall 5
Background
De novo follicular lymphoma (FL) is an indolent disease with good prognosis; median survival is 18.5 years (Tan et al. Blood 2013). However, a subset of patients (pts) with FL who relapse early (progression within 24 months) have significantly worse outcomes (Casulo and Barr. Blood 2019). Identification of such high-risk pts is critical to help predict which pts will benefit the most from novel therapies in first-line FL clinical trials. Recently, Huet et al. (Lancet Oncol 2018) identified high-risk pts in the context of rituximab (R)-CHOP/CVP using a gene expression signature based on 23 genes.
Aims
To evaluate the performance and treatment-dependence of two high-risk FL models in pts with FL treated in the Phase III GALLIUM trial (NCT01332968).
Methods
Enrolled pts (age ≥18 years with previously untreated advanced-stage FL) were randomized to receive either obinutuzumab (G)- or R-based immunochemotherapy plus maintenance. The chemotherapy arm (CHOP, CVP, or bendamustine [benda]) was selected by each study centre (33%, 10%, and 57%, respectively); use of benda was significantly more common in North America and Australia (93% versus Europe [58%] and Asia [6%]; p<0.001), in older pts (>80 years, 81.0%; ≤80 years, 56.6%; p=0.04), and in pts without bulky disease (<7cm, 61.2%; ≥7cm, 52.0%; p=0.002). Pt samples with available tumor tissue (n=274) were profiled by RNASeq; normalized counts were combined using either the published weights (23-gene signature) or principal component analysis (six-gene T-effector signature) (Huet et al. 2018; Bolen et al. Blood Adv 2017). High-risk pts were defined as the top 25th (23-gene signature) or top 75th (T-effector signature) percentile in order to align with Huet et al. (2018) prevalence. P-values were calculated using Cox-proportional-hazards after controlling for treatment arm, sex, FL International Prognostic Index (FLIPI), and geographic region.
Results
In 274 evaluable FL pts, the 23-gene signature high-risk group was not significantly associated with progression-free survival (PFS; p=0.97). However, the 23-gene signature appeared to capture high-risk biology in pts treated with CHOP/CVP (PFS hazard ratio [HR; range]: 2.40 [1.19─4.85]; p=0.015; Figure 1A). Pts defined by the 23-gene signature as high risk seemed to perform better than low-risk pts in the benda cohort (PFS HR [range]: 0.43 [0.20─0.92]; p=0.031), with similar trends in the R-benda (PFS HR [range]: 0.54 [0.22─1.3]; p=0.18) and G-benda (PFS HR [range]: 0.3 [0.06─1.3]; p=0.11) arms, representing a highly significant chemotherapy-dependent interaction (interaction p<0.001). In the individual 23 signature genes, none of the genes were consistently prognostic in both treatment regimens. Significant chemotherapy dependence was observed for ABCB1, SEMA4B, FOXO1, PRDM15, AFF3, ALDH2, and KIAA0040 (interaction p<0.05), suggesting that benda may overcome some of the high-risk biology connected with cell cycle or cell migration. A different treatment dependence was also seen in other prognostic signatures, including the T-effector signature (interaction p=0.001), where a subset of pts defined as low risk with CHOP/CVP treatment captured high-risk biology among pts treated with a benda backbone (PFS HR [range]: 0.48 [0.27─0.85]; p=0.012; Figure 1B).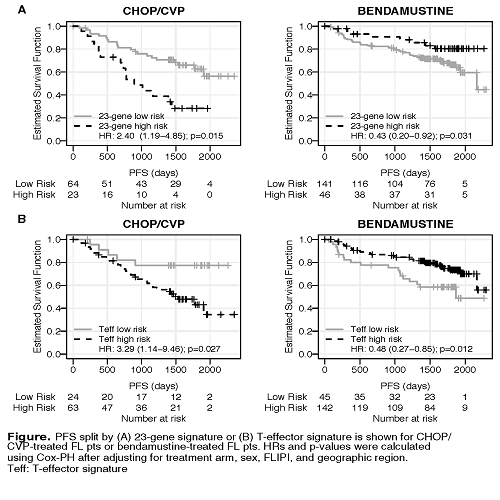 Conclusion
We identified a significant chemotherapy-dependent interaction for two high-risk signatures in de novo FL. These data suggest that high-risk biology may react differently to different chemotherapy backbones, highlighting the challenges of building high-risk signatures for pts independent of treatment.
Session topic: 18. Indolent and mantle-cell non-Hodgkin lymphoma - Clinical
Keyword(s): Chemotherapy, Follicular lymphoma, Prognostic