Abstract: PS999
Type: Poster Presentation
Presentation during EHA24: On Saturday, June 15, 2019 from 17:30 - 19:00
Location: Poster area
Background
Axl is a type III receptor tyrosine kinase shown to have a strong oncogenic potential in many cancer types. Overexpression of Axl has been established as a poor prognostic marker, linked to acquired resistance to chemotherapy and other anticancer therapies in many malignancies, including AML.
BGB324 (Bemcentinib) is an orally available highly specific small molecule inhibitor of Axl, which is currently being investigated in a phase II clinical trial in patients with refractory/relapsed AML and MDS (BGBC003, ClinicalTrials.gov Identifier: NCT02488408).
Aims
We aimed to investigate the effect of bemcentinib on the Axl signaling pathway in treated patients using flow- and mass cytometry.
Methods
25 patients (21 relapsed/refractory AML and 4 MDS) were treated in a classical 3+3 dose escalation design (loading dose/continuation dose): 400/100mg, 600/200mg and 900/300mg. PB sampled at frequent intervals was fixed immediately and analyzed by flow- and mass cytometry to investigate the effects of BGB324 treatment in signaling proteins known to be downstream of Axl. Sequential BM samples were also analyzed by mass cytometry for extensive single cell immune profiling using a 35 marker panel, and mutational profiling of patients was performed by TruSight myeloid panel (Illumina) sequencing of pre-treatment BM samples.
Results
PhosphoFlow and CyTOF analyses of PB from 11 patients showed altered signaling in circulating leukemic blasts relative to pre-treatment in several proteins downstream of Axl, including pPLCγ1, pErk and pAkt. Changes in signaling relative to pre-treatment were seen within 4-24 hours of treatment start in all patients. The time point of signaling response correlated to measurable plasma drug concentrations (figure A). Signaling responses were heterogeneous in the cohort examined, and we did not find a signaling profile correlating to clinical response. The divergence of signaling responses is probably due to a heterogeneous patient population with composite mutational profiles (figure B).
Deep single cell immune profiling of BM samples from 7 patients by mass cytometry revealed the presence of blast populations with composite immune phenotypes in all patients, with moderate drift during treatment. Blast immune phenotypic composition was more complex than what was reflected by the clonal composition. The mutational profiles will be validated with using exome sequencing.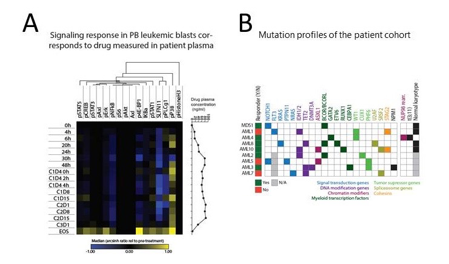 Conclusion
BGB324 has unique pharmacodynamic properties, and signaling responses to exposure can be observed in peripheral blood leukemic blasts by phospho-flow and mass cytometry within hours of ingestion of the first treatment dose, corresponding to measurable drug exposure in plasma. Further studies may establish whether single cell signal profiling can discriminate responders from non-responders and provide information about dose-response in a clinically meaningful way. 
Session topic: 3. Acute myeloid leukemia - Biology & Translational Research
Keyword(s): AML, Clinical trial, MDS