Abstract: PS993
Type: Poster Presentation
Presentation during EHA24: On Saturday, June 15, 2019 from 17:30 - 19:00
Location: Poster area
Background

Redox balance plays a dual role in acute myeloid leukemia (AML). Indeed, reactive oxygen species (ROS), mainly produced by mitochondria or NAPDH oxidase (NOX), lead to oxidative stress that could contribute not only to the proliferation of leukemic cells, but also to their apoptosis during chemotherapy.
Aims

In this context, we performed a prospective study in 84 newly diagnosed AML patients in order to characterize their redox balance and its impact on AML prognostic. 
Methods

To this purpose, in addition to the evaluation of the antioxidant system, we developed an original ex-vivo assay of ROS profiles in both, leukemic and non-blastic hematopoietic cells, using mitochondrial and/or NOX modulators. 
Results

Firstly, we showed that blood neutrophils from AML patients generated more ROS at baseline than healthy donors (HD), but were less responsive to a NOX inductor (PMA). Monocytes and lymphocytes also showed an abnormal response to ROS modulators compared to HD. This reactive oxygen species deregulation in "normal" cells from AML microenvironment also concerned the antioxidant system (total glutathione, erythrocytic superoxide dismutase and glutathione peroxidase) compared to HD.
Ex vivo assay of ROS on leukemic cells highlighted significant differences of ROS profiles among molecular and FAB subtypes. We observed that ROS signatures in presence of NOX inductor (PMA) and/or compound blocking the mitochondrial respiration (Antimycin/Rotenone) were better markers of AML molecular heterogeneity than ROS production at baseline. Moreover, we demonstrated through multivariate analysis that these ROS signatures were a prognostic factor independent of usual prognostic factors (age, white blood cells, ELN classification). In particular, high ROS levels in presence of both mitochondrial stress and NOX activators (so-called Antimycin/Rotenone/PMA condition) were significantly associated with the lowest risk of death and event-free survival in multivariate analysis (Figure 1A). Conversely, patients resistant to mitochondrial and NOX inductions displayed a significantly worst overall survival. Finally, we identified two antioxidant markers at diagnosis, reduced/oxidized glutathione ratio and thiols levels that were significantly correlated with better survival independently of usual prognostic factor, in multivariate analysis (Figure 1 B,C).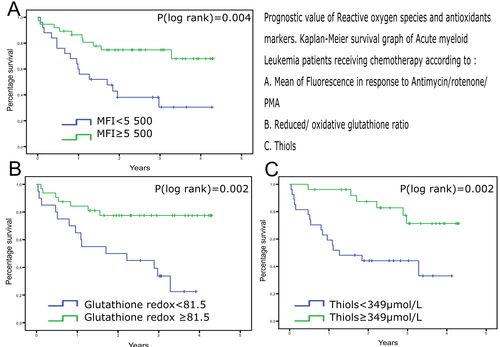 Conclusion
In conclusion, our study proves that ROS signature of leukemic cells depends on their genetic profile, and that functional states of both mitochondria and NOX play a major role in the prognosis of patients.
Session topic: 3. Acute myeloid leukemia - Biology & Translational Research
Keyword(s): Antioxidants, Mitochondria, Prognosis, Reactive oxygen species