Abstract: PS965
Type: Poster Presentation
Presentation during EHA24: On Saturday, June 15, 2019 from 17:30 - 19:00
Location: Poster area
Background
The blastic phase (BP) with B-acute lymphoblastic leukemia (B-ALL) of chronic myelogenous leukemia (CML) are generally refractory to treatment with a survival ranging from weeks to months. Although allogeneic hematopoietic stem cell transplantation (allo-HSCT) is curative, it is important to eliminate the blast of ALL and achieve chronic phase (CP) before HSCT.
Aims
To explore the effectiveness and advantages of FasT CD19 CAR-T therapy, we report a case of B-ALL (BP-CML) treated with FasT CD19 CAR-T.
Methods
A 39-year-old woman had received irregular treatments for her CP-CML, which led to B-ALL (BP-CML). The classic chemotherapy regimens were ineffective. The patient had T315I/V299L mutation and was resistant to the available TKIs in China. After combination chemotherapy, hematological remission was achieved. However, bone marrow examination showed lymphoblasts and the prolymphocytes was up 4.5%. PCR showed BCR-ABL p210/ABL 99.1%, and flow cytometry showed abnormal B lymphoblasts was up to 0.5% in total karyocytes. In order to eliminate the minimal residual disease (MRD) of the blasts of B-ALL prior to HSCT, we employed FasT CD19 CAR-T therapy. Three days after FC preconditioning (fludarabine 50mg d1-3, cyclophosphamide 300mg d1-3), a low dose of FasT CAR-T cells (5×104/kg) was infused. The vein-to-vein time of the FasT CAR-T is 10 days, in which the manufacturing time is only 1 day. 
Results
Ten days after CAR-T infusion, the patient's body temperature went up to 39℃ and returned to normal within one day. Flow cytometry showed the number of CAR-T cells were 9.0 cells /uL blood and 42.37 cells /uL blood on Day 11 and Day 13, respectively. From Day 1-7, few CD19+ B cells detected in peripheral blood by FACS, and the CAR DNA copy could not be detected by Q-PCR. Between Day 8 and Day 28, CD19+ B cells could not be detected in the blood, and the CAR copy number reached the highest on Day 13 (4670.2 copies/ug DNA) and dropped to 15.4 copies/ug DNA on Day 28. On Day 18, FCM and reexamination of the bone marrow showed CP-CML, and the patient underwent allo-HSCT on Day 39.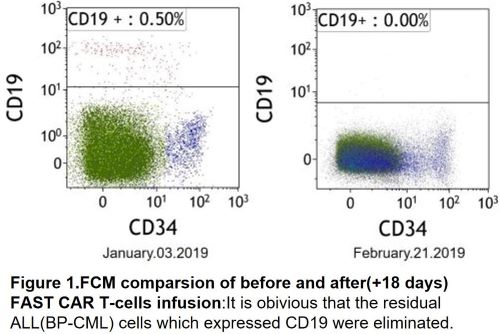 Conclusion
Low dose FasT CD19 CAR-T therapy showed an excellent therapeutic effect to eliminate the MRD without serious cytokines release symptom (CRS) and neurotoxicity. The infusion time was 7-10 days earlier than the conventional CD19 CAR-T cells. The peak CAR-T cell number and CAR copy number were detected later than the conventional CD19 CAR-T. The expansion procedure of the novel FasT CD19 CAR-T cells in vivo instead of in vitro may explain the later CRS and better tumor-killing activity. Low dose FasT CD19 CAR-T infusion gives us a new efficient approach for leukemia MRD clearance. There are still many questions that remains answered in clinic. Based on the preclinical experiment, FasT CD19 CAR-T cells express higher level CARs and cytokines (IL-2 and IFNγ), which may lead to more efficiency in killing than the conventional CAR-T cells. The clinical trial (ChiCTR-OOC-16008448) is launched to explore new indications, proper dosages and side-effects. At present, we have successfully treated three r/r B-ALL patients with FasT CD19 CAR-T therapy.
Session topic: 2. Acute lymphoblastic leukemia - Clinical
Keyword(s): B cell acute lymphoblastic leukemia, Cellular therapy