Abstract: PS958
Type: Poster Presentation
Presentation during EHA24: On Saturday, June 15, 2019 from 17:30 - 19:00
Location: Poster area
Background
The CD19-targeted chimeric antigen receptor T-cell (CAR-T) therapy has been widely proved effective on relapsed and refractory (r/r) B-cell acute lymphoblastic leukemia (B-ALL). Meanwhile, CAR-T therapy related toxicities, including cytokine release syndrome (CRS) and neurological toxicities, are drawing researchers' attention. In addition, our research team notices that coagulopathy and even disseminated intravascular coagulation (DIC) are common problems during CAR-T therapy.
Aims
Our study aimed to explore the mechanism and kinetics of CRS-related coagulopathy, and tried to work out the guideline to manage it.
Methods
In our anti-CD19 CAR-T trial, r/r B-ALL patients underwent leukapheresis on day -11, received lymphodepleting chemotherapy (fludarabine and cyclophosphamide) on days -7 to -5, and finally received split infusions of CAR-T cells on days 0 to 2. Patients were regularly assessed for response and toxicity. Besides, we measured plasma concentrations of tissue factor (TF) and platelet endothelial cell adhesion molecular-1 (PECAM-1) to identify the mechanism of coagulation disorders.
Results
53 patients were recruited in this trial and the overall one-month remission rate was 88.7%. During the treatment course, 19 patients experienced severe CRS (grade 3 to 4), 8 patients developed grade 2-3 neurological toxicities. Meanwhile, 30 patients (30/53, 56.6%) suffered from coagulation disorders, and 15 progressed into DIC. The symptoms of DIC varied from mild and self-limiting, with ecchymosis and jaundice, to severe and life-threatening, with hypotension, dyspnea, renal dysfunction, neurological disorders, and even shock. While treating the underlying leukemia diseases, we selectively applied platelets transfusions, plasma or coagulation factor concentrates supplements, and anticoagulants, such as heparin, to these DIC patients under different circumstances. Benefiting from proper and prompt replacement and anticoagulant therapy, 14 patients successfully got out of the conditions of DIC. Follow-up study showed that there was no difference in patients' overall survival between DIC patients and non-DIC patients (P>0.05). (Fig. 1A) However, we speculated a worse prognosis in DIC patients without reasonable treatment. Remarkably, we observed that severe CRS patients were more likely to develop coagulopathy (P < 0.05). Coagulation factors, such as D-dimer and FDP, were also higher in severe CRS patients. (Fig. 1B, C) What's more, we found that severe CRS patients had higher plasma TF and PECAM-1 concentrations compared to mild CRS patients (P<0.05), which suggested that vascular endothelium played important role in CRS-related coagulopathy. (Fig. 1D, E)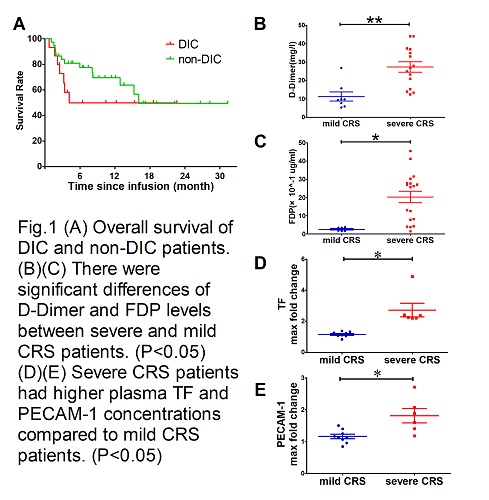 Conclusion
To conclude, coagulation disorders frequently happen during CAR-T therapy. TF and PECAM-1 are of great importance in the etiology and pathogenesis of coagulation problems. Early and proper interventions targeted at CRS-related coagulopathy contribute a lot to the control of side effects in CAR-T therapy. This trial was registered at www.clinicaltrials.gov as # NCT02965092.
Session topic: 2. Acute lymphoblastic leukemia - Clinical
Keyword(s): Acute lymphoblastic leukemia, Cellular therapy, Coagulopathy