Abstract: PS954
Type: Poster Presentation
Presentation during EHA24: On Saturday, June 15, 2019 from 17:30 - 19:00
Location: Poster area
Background
Additional salvage regimens are burdensome for relapsed/refractory acute lymphoblastic leukemia (ALL) patients (pts) due to therapy-associated toxicities, which may affect quality of life with poor efficacy. In INO-VATE (Kantarjian et al, NEJM 2016), pts receiving inotuzumab ozogamicin (InO) vs standard chemotherapy (SC) had significantly greater remission rates and longer overall survival; after study treatment discontinuation, overall fewer subsequent induction/salvage therapies (STs, mainly burdensome chemotherapies) were used in the InO group vs SC.
Aims
To investigate the treatment of InO on the time to the first ST (TST) in the INO-VATE trial.
Methods
Study design was published. Adults with CD22+ ALL who were due to receive 1st or 2nd salvage treatment were randomized 1:1 to InO (n=164) or SC (n=162). TST was time from randomization to the start of the first ST. Pts who did not receive any ST were censored. Data cutoff: Jan 4, 2017. 
Results
Fewer InO pts had ST vs SC pts (Table). Among the censored pts, 83/108 (76.9%) in the InO vs 54/69 (78.3%) in the SC group died, 23/108 (21.3%) vs 5/69 (7.2%) were alive at the end of the study, and 2/108 (1.9%) vs 10/69 (14.5%) were no longer being followed for survival. TST was longer in pts receiving InO vs SC. Overall median (95% CI) TST was 18.8 (14.7–NA) vs 3.9 (2.4–5.1) months; hazard ratio (HR)=0.34, 97.5% CI: 0.23–0.49, 1-sided P<0.0001. For pts (InO: 85, SC: 126) who never received hematopoietic stem cell transplantation (HSCT) on study, fewer InO pts had ST vs SC pts; TST was significantly longer in InO vs SC. For pts (InO: 70, SC: 18) who had HSCT directly after salvage, TST was extended in InO vs SC.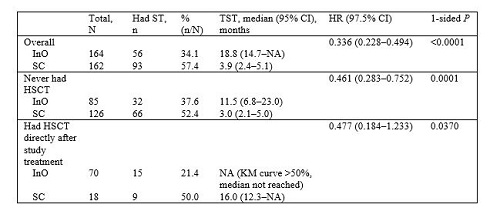 Conclusion
In this study, treatment with InO provided the benefit of extended TST, effectively allowing patients a longer time period until an ST was needed in both patients who proceeded to as well as those who did not proceed to HSCT.
Session topic: 2. Acute lymphoblastic leukemia - Clinical
Keyword(s): B cell acute lymphoblastic leukemia, HSCT, Salvage therapy, Targeted therapy