Abstract: PS942
Type: Poster Presentation
Presentation during EHA24: On Saturday, June 15, 2019 from 17:30 - 19:00
Location: Poster area
Background

A significant antileukemic activity of CD19-directed T-cell immunotherapies, namely chimeric antigen receptor (CAR) T-cells and Blinatumomab (Blin), has been demonstrated in advanced B-cell precursor acute lymphoblastic leukemia (BCP-ALL). However, despite high response rate, up to 30% of patients develop relapse with loss of CD19 antigen on leukemic cells (Ruella, JCI, 2016). Due to the novelty of this escape mechanism, only few studies investigating its genetic cause have been published so far.
Aims
Our aim was to identify somatic mutations acquired at the time of CD19-negative relapse in patients after Blin treatment, employing exome sequencing of remission (rem), screening (scr) and relapse (rel) samples.
Methods

Among patients with relapse/refractory or minimal residual disease (MRD)-positive BCP-ALL treated within MT103-203, MT103-206, MT103-211, and TOWER trials, 17 patients suffering a CD19-negative relapse with sufficient DNA available were identified. Rem, scr and rel samples (median infiltration at scr 40%, range 6-95%; at rel 63%, 6-95% ) from these patients were analysed with Nextera Exome Enrichment or IDT xGEN Exome Panel on an Illumina HiSeq 4000 sequencer with 2x 75 bp reads and 6 samples per sequencing lane, resulting in 80X-90X on-target average coverage. Two scr and five rel samples with IG/TR-based MRD below 10% were sequenced with double coverage. Somatic variant calling was done by the bcbio-nextgen software. Variants with abundance over 1/5 of the sample infiltration were marked as dominant (dom), otherwise marked as subclonal (sub).
Results

Mutations of the CD19 gene affecting the final protein were identified in only 5/17 (29.4%) patients (Table 1). Two of the mutations were frameshift variants producing a premature termination codon, 2 were nonsense variants, and 1 of them was located in the splicing region. In 4/5 patients loss of heterozygosity was present in the CD19 region, leaving no functional allele. The remaining patient showed inconclusive results, likely due to a very low leukemic infiltration (9%).
We further assessed all somatic variants present in the rel sample but not in the scr sample (i.e. when <5 alternative reads). On average, 10 (range 1-40) dom mutations and 7 (range 0-29) sub mutations were identified per patient. The difference between samples with and without a CD19 mutation was not significant. No mutation was shared among different patients and only ABCE1 and KMT2D genes were recurrently mutated – each of them in 2 different patients without a CD19 mutation.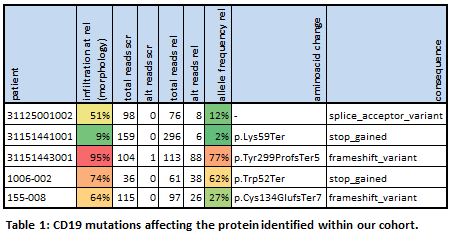 Conclusion

Mutations with an effect on CD19 protein were identified in less than 1/3 of patients in our cohort. In contrast to our findings, a recent study identified truncating CD19 mutations in 12/12 patients with a CD19-negative relapse after CAR T-cell treatment (Orlando, Nature Medicine, 2018). This difference could be attributed to a stronger selection pressure of CAR T-cell treatment compared to Blin, where also lower incidence of CD19-negative relapses has been reported (Ruella, Comput Struct Biotechnol J., 2016).
A genetic explanation for the loss of CD19 in the remaining patients (n=12) of our cohort is currently lacking. Clustering of all mutations into pathways, as well as analysis of a control cohort of patients with relapse on standard of care chemotherapy are ongoing with the aim to identify other molecular pathways responsible for the CD19 loss. RNA is not available for this retrospective cohort of patients, therefore studying alternative splicing via transcriptome analysis is not possible.
Session topic: 2. Acute lymphoblastic leukemia - Clinical
Keyword(s): CD19, Immune therapy, Relapsed acute lymphoblastic leukemia