Abstract: PS941
Type: Poster Presentation
Presentation during EHA24: On Saturday, June 15, 2019 from 17:30 - 19:00
Location: Poster area
Background

Anti-CD19 chimeric antigen receptor T cell (CAR-T) therapy was an effective treatment method for relapsed and/or refractory B-cell acute lymphoblastic leukemia (r/r B-ALL) patients, but its ability to maintain long-term leukemia-free survival was limited. New strategies that can help CAR-T therapy achieve lasting effect are urgently warranted.
Aims

Our study aimed to answer the question that whether subsequent allo-HSCT could improve the long-term prognosis of the minimal residual disease-negative (MRD-) CR patients after CAR-T therapy. 
Methods

In the first stage, patients received split doses of CAR-T cells after lymphodepleting chemotherapy, consisting of fludarabine and cyclophosphamide. In the second stage, MRD- CR patients who had no history of allo-HSCT and had no contraindications or other restrictions would, on their own accord, receive allo-HSCT from 1 to 3 months after CAR-T therapy.
Results

58 r/r B-ALL patients were treated with anti-CD19 CAR-T cells, and 51 (87.9%) achieved complete remission (CR) (47 MRD- CR). The 6-month and 12-month overall survival (OS) rates were 68.9% and 61.1% respectively. During the follow-up (median, 7.7 months), 21 of the 47 MRD- CR patients received consolidative allo-HSCT and 17 remained leukemia-free, while the other 26 patients received CAR-T therapy alone and only 10 remained in CR. (Fig. 1A) There was no difference in OS between the MRD- CR patients who received allo-HSCT and those who didn't, but event-free survival (EFS) and relapse-free survival (RFS) were significantly prolonged by allo-HSCT in the subgroups with either high pre-infusion bone marrow MRD (≥ 5%) or poor prognostic markers (P<0.05). (Fig.1B~E) However, no difference was found in OS, EFS and RFS in subgroup with MRD < 5% and without poor prognostic markers.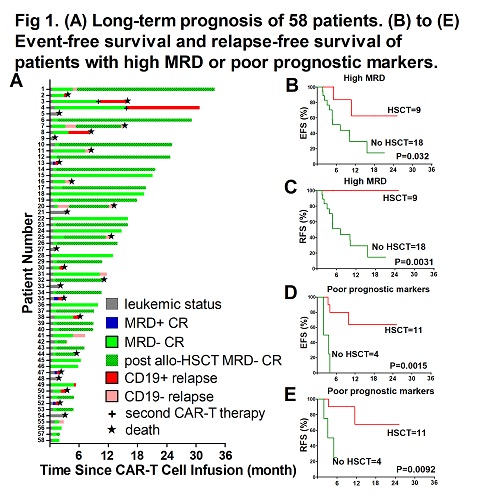 Conclusion
These data demonstrate that CAR-T therapy bridging to allo-HSCT is a safe and effective therapeutic strategy for r/r B-ALL patients, and can achieve better efficacy in terms of maintaining long-term EFS and RFS. Patients with high pre-infusion MRD or with poor prognostic markers can benefit from the early consolidative allo-HSCT after CAR-T therapy. Trials were registered at www.clinicaltrials.gov as # NCT02965092 and # NCT03366350.
Session topic: 2. Acute lymphoblastic leukemia - Clinical
Keyword(s): Allogeneic hematopoietic stem cell transplant, B cell acute lymphoblastic leukemia, Cellular therapy