Abstract: PS940
Type: Poster Presentation
Presentation during EHA24: On Saturday, June 15, 2019 from 17:30 - 19:00
Location: Poster area
Background
Venetoclax (Ven) is a highly selective BCL-2 inhibitor with established efficacy in adults with hematologic malignancies. Navitoclax (Nav) is a BCL-2/BCL-XL/BCL-W inhibitor with promising effects, but prolonged thrombocytopenia limits its continuous use at higher doses (J Clin Oncol. 2012;30:488). In a previous report of 14 patients (pts) with acute lymphoblastic leukemia (ALL), Ven+Nav was well tolerated without unexpected toxicity and with promising preliminary efficacy.
Aims
We report updated outcomes for 24 pts with ALL or lymphoblastic lymphoma (LLy) treated with Ven+Nav and chemotherapy.
Methods
This phase 1, multicenter, open-label, dose escalation study (NCT03181126) enrolled pts aged ≥4 years old with relapsed/refractory ALL or LLy. Pts received the weight-adjusted equivalent of 200 mg Ven on day 1 and 400 mg equivalent daily thereafter. From day 3 onward, oral daily Nav was administered at 25, 50 or 100 mg for pts weighing ≥45 kg or at 25 or 50 mg for pts weighing 20 to <45 kg. Pts could receive 2 cycles of chemotherapy with pegylated-asparaginase, vincristine and dexamethasone and additional cycles at the investigators' discretion. Disease assessment by flow cytometry occurred on days 8 and 36 and as clinically indicated. Minimal residual disease (MRD) evaluation (<10–4  cutoff for MRD-negativity) was performed at time of disease assessment if clinically indicated.
Results
As of January 2, 2019, 24 pts have been enrolled with pre-B cell ALL (B ALL, n=11), T cell ALL (T ALL, n=11), or LLy (n=2). The median age was 30 years (range, 10–72 years; Table), and pts had a median of 4 prior therapies (range, 1–8). Median time on study was 4.7 months (range, 2–6.2 months). Fifteen pts discontinued the study drugs because of progressive disease (n=2), adverse events (AEs, n=1), physician decision (n=1), to pursue stem cell transplant (n=2), death (n=6), or other reasons (n=3). Five pts had fatal AEs, with none considered related to Ven or Nav. The most common treatment-emergent AEs (TEAEs) were nausea (58%), diarrhea (50%), febrile neutropenia (42%), hypokalemia (42%), neutropenia (38%), abdominal pain (38%), and vomiting (33%). Grade ≥3 TEAEs related to Ven and Nav occurred in 63% and 46% of pts, respectively, and serious AEs related to Ven and Nav occurred in 13% and 8% of pts, respectively. Dose-limiting toxicities included one instance of delayed count recovery in the 25-mg Nav cohort and one instance of drug-induced hepatitis in the 50-mg Nav cohort. Two treatment-related AEs (neutropenic fever and drug-induced hepatitis) led to discontinuation of both Ven and Nav (Table). The overall response rate was 63% (15/24), with best responses of complete remission (CR) in 7 pts (29%) and CR with incomplete marrow recovery/CR with incomplete platelet recovery (CRi/CRp) in 6 pts (25%; Table). Of the 5 pts with T ALL who responded to therapy, 3 achieved a response (1 each CRp, CRi, and partial response) on Ven+Nav alone by day 8. MRD negativity was observed in 7 pts (29%, 4 [36%] with B ALL and 3 [27%] with T ALL).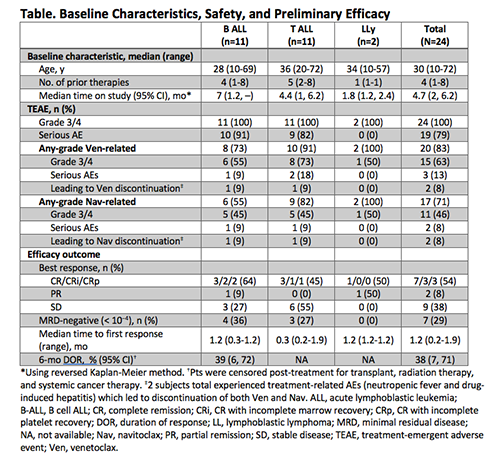 Conclusion
Ven+Nav with chemotherapy led to few discontinuations or dose reductions from AEs, and few serious AEs attributable to Ven or Nav in pts with ALL or LLy. The preliminary efficacy of Ven+Nav was promising in this heavily pretreated population of pts including those with prior stem cell transplantation, with high rates of CR/CRi/CRp. Further enrollment and follow-up and correlative biomarker analyses are ongoing.
Session topic: 2. Acute lymphoblastic leukemia - Clinical
Keyword(s): Acute lymphoblastic leukemia, BCL2, Targeted therapy