Abstract: PS939
Type: Poster Presentation
Presentation during EHA24: On Saturday, June 15, 2019 from 17:30 - 19:00
Location: Poster area
Background
In recent decade, CAR-T cell therapy has surprisingly improved the response rate of refractory and relapsed patients with acute lymphoblastic leukemia (ALL). However, there are still 10~20% of patients who failed to respond to the treatment, and disease recurrence remains the major concern for patients even achieving remission. Thus, studies focusing on long-term outcomes are warranted.
Aims
To investigate the efficacy and safety of CAR-T cell therapy in unremission ALL patients, and to explore the role of the strategy of CAR-T cell bridging to allogeneic hematopoietic cell transplantation (HCT).
Methods
A clinical trial was conducted with following inclusion criteria: 1) ALL patients with a disease status out of remission; 2) CD19/CD22 were expressed on leukemic cells; 3) tolerant to intensive treatments. Patients enrolled received preparative treatment of fludarabin and cyclophosphamide, and followed by infusion of CAR-T cells targeting to CD19/CD22 with a target dose of 5~10×106/kg of recipient weight. HCT procedures were performed after the evaluations, which were at 4 weeks after the CAR-T cell therapy.
Results
In total, 85 patients were enrolled and received CAR-T cell therapy (details in the table). Complete remission (CR) was attained in 65 patients and partial remission in another 4 patients. Except 4 cases died before evaluation, the CR and overall response rate (ORR) for patients in per protocol set were 80.2% and 85.2% respectively. Among the CR patients, 48 cases were measurable residual disease (MRD) negative, which produced a MRD response of 59.3%. Previous HCT history had a negative impact on the MRD response (P=0.036). Cytokine-release syndrome (CRS) was observed in 65 cases (76.5%), but only 27 cases (31.8%) were assessed as grade 3 or higher. Higher blast proportion in marrow was related to increased risk for CRS grade≥2 (P=0.002).
| | |
| --- | --- |
| Characteristics | Number of patients |
| Sex (male / female) | 41 / 44 |
| Age (median, range), yeas old | 31 (7-74) |
| Previous remission | 59 (69.4%) |
| Previous HCT | 29 (34.1%) |
| Ph chromosome | 27 (31.8%) |
| High blast proportion in marrow | 33 (38.3%) |
| Sequential allogeneic HCT | 24 (28.2%) |
Early death (died in first three months after CAR-T cell infusion) occurred in 12 patients, who were excluded from the survival analyses. One-year overall survival (OS) and progression-free survival (PFS) of the rest 73 cases were 53.4% ± 5.9% and 46.4% ± 5.8% respectively. Twenty-four cases who received sequential allogeneic HCT had remarkably improved 1-year OS (79.9% ± 9.2% versus 46.7% ± 7.8%, P<0.001) and PFS (73.7% ± 9.3% versus 41.2% ± 7.5%, P<0.001) than the ones without HCT (as shown in the figure), although responses to CAR-T cell therapy was comparable between these two groups of patients. Cox regression results showed allogeneic HCT was a significant impactor for OS (HR 3.606, P=0.018) as well as PFS (HR 2.901, P=0.011).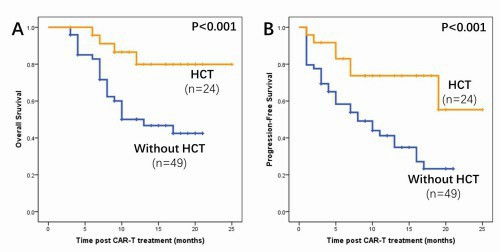 Conclusion
Our data showed, for B-cell ALL patients out of remission, CAR-T cell therapy targeting to CD19/CD22 had a promising response but long-term outcome remained poor. Sequential allogeneic HCT may dramatically improve the OS and PFS, which needs to be further validated by randomized studies.
Session topic: 2. Acute lymphoblastic leukemia - Clinical
Keyword(s): Acute lymphoblastic leukemia, Cellular therapy, Hematopoietic cell transplantation