Abstract: PS937
Type: Poster Presentation
Presentation during EHA24: On Saturday, June 15, 2019 from 17:30 - 19:00
Location: Poster area
Background
Clofarabine (CLO)  is a nucleoside analogue with efficacy in relapsed/refractory ALL.
Aims
This study aimed to evaluate whether CLO added to induction and consolidation would improve outcome in adults with newly diagnosed ALL. 
Methods
Patients, 18-70 years, with primary precursor B- or T-ALL were eligible and randomized for standard treatment ± CLO. Treatment for younger (18-40 years) patients consisted of a pediatric inspired schedule (HOVON-70, Rijneveld et al. 2011) and older patients (41-70 years) were treated with a semi-intensive schedule (HOVON-71, Daenen et al. 2012). Patients with Ph+ ALL received TKI during treatment. Stratification was based on age and immunophenotype (B- vs T-ALL).  CLO (30 mg/m2, 5days) was given during 2 courses, i.e. during prephase and after first consolidation. High risk disease was defined as high WBC, no CR after induction or specific cytogenetic/molecular abnormalities (Ph or BCR-ABL, MLL, hypodiploidy or complex karyotype). Allogeneic stem cell transplantation (alloSCT) with an HLA identical sibling was offered to all patients; in high-risk patients an alternative donor could be used. Primary endpoint was event free survival (EFS). Secondary endpoints included CR, MRD by RQ-PCR of rearranged Ig or TCR genes, DFS and OS, adverse events and treatment related mortality. The trial was supported by the Dutch Cancer Society and Sanofi Genzyme and was registered at www.trialregister.nl as NTR2004.
Results
340 patients were randomized. No differences between arms were observed with respect to baseline characteristics incl. age (median 43 year), risk group (64% high-risk), Ph+ (20%), WHO-PS and phenotype. 78% and 71% of patients ≤40 years completed treatment in arms A and B; these percentages were 70% and 63% for patients >40 years. Estimated EFS was 52% and 51% at 5 years for arm A and B (hazard ratio(HR)=1.05, 95% confidence interval(CI): 0.76-1.44,  p=0.79; adjusted for age and phenotype). For patients ≤40 years, 5-year EFS was 61% vs 64% in arm A vs B,  while in patients >40 years EFS was 44% vs 40% in arm A vs B.  CR rate was 89% in both arms and both age groups. MRD was available for 168 (50%) patients, 83 and 85 in arm A and B resp. MRD negativity was defined by <10-4. 52/83 patients (62%) were MRD negative after first consolidation in arm A vs 74/84 (88%) in arm B (p=0.001). Seventy (42%) patients proceeded to alloSCT in arm A vs 69 (41%) in arm B. After a median follow up of 47 months, 5-year OS was 60% in arm A vs 56% in arm B (HR=1.09, 95% CI: 0.77-1.55, p=0.63). In patients who reached CR, 5-year DFS was 58% in both arms (HR=1.05, 95% CI: 0.72-1.51, p=0.81), while 5-year relapse rates were 26% and 23%, and 5-year non-relapse mortality was 16% vs 19 %. CLO treated patients experienced more serious adverse events (SAEs), 70% vs 82% in ≤40y  and 52% vs 75% in >40y (p=0.001), and more infections grade 3-4, 46 vs 64% in arm A and B resp. (p<0.001).  Exploratory comparison of 54 patients (≤40 years) treated with pediatric inspired therapy(HOVON-70), suggested an improvement in survival at 5 years from 57% to 74%.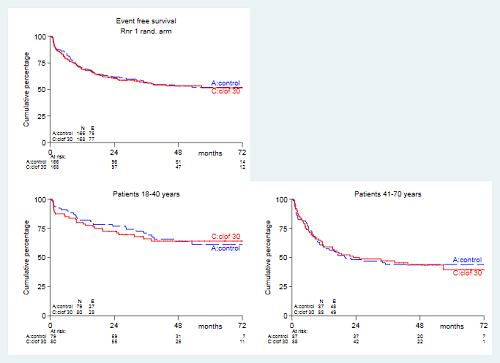 Conclusion
Addition of CLO to standard treatment did not improve EFS, DFS or OS both in younger and older patients. However, a significantly higher MRD response in the CLO treated patients was observed. Significantly more SAE and infections were observed in  CLO treated patients, but non-relapse mortality was not increased. Further analysis is ongoing.
Session topic: 2. Acute lymphoblastic leukemia - Clinical
Keyword(s): Acute lymphoblastic leukemia, Adult, MRD