Abstract: PS1593
Type: Poster Presentation
Presentation during EHA24: On Saturday, June 15, 2019 from 17:30 - 19:00
Location: Poster area
Background
Heavy AIHAs are a problem for transfusion medicine because they make it difficult to treat the underlying disease, and because of the high risk of hemolytic post-transfusion reactions. The safety and effectiveness of transfusion therapy in severe AIHAs depends entirely on: Ig class of auto-antierytrocite antibodies, t optimum of activity, activity, and specificity.
Aims
Frequency, evolution, and severity of AIHA in hematological diseases: AML, ALL, CLL, NHL, MH, MM, MDS, MAA; An.Cooley, Myelofibrosis, ITP, B12-deficiency, choice of blood transfusion approach
Methods
Materials: Number of AIHAs - 136 cases in adults for the period 2014-2018, evolution in the course of the underlying disease, Ig class of auto-antierytrocite antibodies, activity, specificity, transfusion therapy - with or without complications (presentation of 3 severe clinical cases of AIHA in MM, MDS, after allogeneic ABO-compatibility HSCT).
Methods: Routine manual technique, column-agglutination technique for blood typing, screening and identification of anti-erythrocyte antibodies (agglutination, enzyme, indirect antiglobulin test), in vitro compatibility tests on all methods and techniques, absorption and elution by standard techniques, if necessary.
Results
AIHA was found in 136 cases: male-39.7%, female-52.94%; AML-11.77%, ALL-3.69%, CLL-16.92%, NHL-25%, MH-3.67%, MM-6.62%, MDS-16.18%, An.Cooley-1.47%, MAA-4.41%, Myelofibrosis-2.21 %, B12 deficit-2.95%, ITP-3.67%; AIHA at the expense of IgG -41.91%, IgG + C3d-26.47%, C3d-12.5%, 19.2% are atypical; autoantibody specificity-22.8%; mixed autoimmune disease-5.15%, major approach to severe AIHA-retention of blood transfusion due to the effect of immunosuppressive therapy, transfusion therapy was performed only in severe AIHA (IgG + C3d, CAD) with Hb values <45 G / L and the blood transfusion without reactions and complications for the patients.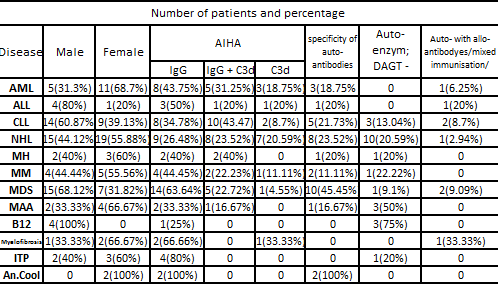 Conclusion
The severe AIHA in the evolution of the underlying disease are the challenge of transfusion medicine and the choice of approach/risk management in transfusion therapy/retention of blood transfusion or blood transfusion only at low critical levels of Hb <45 G / L are favorable for the patient. The favorable evolution of hematological disease depends on good transfusion support.
Session topic: 31. Transfusion medicine