Abstract: PS1587
Type: Poster Presentation
Presentation during EHA24: On Saturday, June 15, 2019 from 17:30 - 19:00
Location: Poster area
Background
Restrictive transfusion strategy of packed red blood cells (PRBCs) has been shown to improve patient outcomes in a variety of clinical settings. Various educational measures have been shown to improve short-term appropriateness of PRBC transfusions.
Aims
The aim of the present study was to examine the long-lasting effects of a simple and low-cost educational intervention aimed to promote awareness to current transfusion guidelines.  
Methods
Our medical center is composed of 2 campuses. During December 2014 we conducted an educational intervention which included an oral presentation to all non-intensive care departments in the larger of the two campuses, Campus#1. In order to assess the long term effects of the intervention, we retrospectively analyzed all PRBC transfusions ordered in non-critical care inpatient services between 2014 and 2017 in both campuses. Data regarding measured hemoglobin (Hb) preceding transfusions were collected. The primary end-point was defined as the percentage of PRBC transfused to patients with Hb ≥ 8 g/dl in the years 2015-2017 compared to that transfused in 2014. Secondary end-points were the percentage of PRBC transfused to patients with Hb < 7 g/dl and the total number of PRBC transfused during 2015-2017 compared to 2014. We further evaluated transfusion appropriateness in Campus#1 compared to Campus#2. 
Results
Between January 2014 and December 2017, a total of 35,575 PRBC were transfused at our medical center, 27,475 at Campus#1 and 8,100 at Campus#2. There was a statistically significant and continuous reduction in the percentage of PRBC transfused at a Hb ≥ 8 g/dl in Campus#1 between 2014 and 2017, with a matching increase in the percentage of PRBC transfused at Hb under 7 g/dL [OR reduction of 42% (CI 0.54-0.62)  and OR increase of 68% (CI 1.56-1.81), respectively]. The total number of PRBC transfusions in Campus#1 demonstrated a statistically significant gradual annual decrease from 2014 (N=7967) to 2017 (N=6022), (p<0.0001). This decrease was evident in most wards, except for obstetrics and gynecology (OB-GYN). Compared to patients at Campus#1, patients in Campus#2 were more likely to receive a PRBC transfusion at a Hb level of 8 g/dL or above (p<0.0001; Figure 1), and less likely to receive a PRBC transfusion at a Hb level below 7 g/dL (p<0.0001) during the study period. Furthermore, in Campus#1 there was a gradual and statistically significant decrease in the PRBC transfusions ordered without Hb measurement during the day before administration, from 7.2% (N=574) in 2014, to 5% (N=305) in 2017 (p<0.0001). This trend was not observed in campus #2.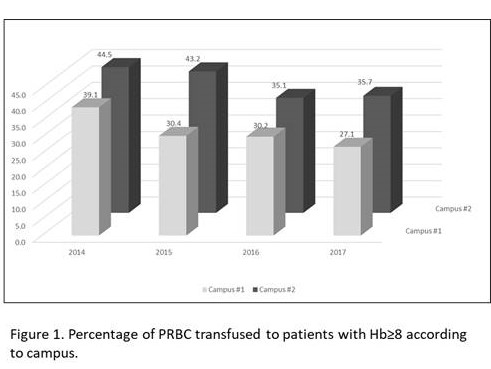 Conclusion
Our study suggests that a simple, cheap and easily implemented educational intervention can result in long-term significant improvement in the appropriateness of PRBC transfusions. Medical centers should consider implementing similar interventions to improve appropriate PRBC transfusion.
Session topic: 31. Transfusion medicine
Keyword(s): Blood transfusion, Transfusion