Abstract: PS1581
Type: Poster Presentation
Presentation during EHA24: On Saturday, June 15, 2019 from 17:30 - 19:00
Location: Poster area
Background

Thrombotic microangiopathy (TMA) is characterized by mechanical hemolytic anemia, thrombocytopenia and organ damage, with the presence of microvascular thrombi. TMA can arise from different pathological conditions; from ADAMTS13 activity deficiency to deregulation of the complement system in cell surfaces (atypical Hemolytic Uremic Syndrome, aHUS). Around 50-60% of aHUS patients have alterations affecting complement alternative pathway regulators. Risk haplotypes raise disease penetrance when coinherited with mutations, but otherwise their role is unclear.
aHUS diagnosis is specially challenging because no specific and rapid laboratory test is available for this disease. Therefore, most accurate diagnosis of aHUS is based on exclusion of other TMA causes. Many times, TMA occur in complex patients and several causes are possible, which hinders the differential diagnosis between TMAs. Case reports have shown that TMA patients without clinical aHUS diagnosis can have genetic alterations, but there is scarce data about how common it is this situation.
Aims
To compare frequencies of different complement alterations (mutations, autoantibodies and risk haplotypes) between: I) Patients with an aHUS diagnosis based on exclusion. II) Patients with suspected aHUS but with other possible mechanisms leading to TMA.
Methods
We received samples of patients suspicious to have aHUS for genetic and immunologic analyses (n=48). Adamts13 activity was >10% for all the patients. Unaffected familial cases (n=7) or patients with less than 1% schistocyte count (n=2) were excluded. We split the remaining cases into two categories, those who met an aHUS exclusion diagnosis (Group I; n=17) and those who do not (Group II; n=22) (Figure 1). Single nucleotide variations in 14 complement and coagulation genes (CFH, CFI, C3, CD46, CFB, THBD, PLG, DGKE, CFP and CFHR1 to CFHR5) were analyzed by NGS (TruSeq Custom Amplicon, Illumina). H3 and MCP risk haplotypes were defined by rs1065489 and rs7144 respectively. 63 controls were analyzed to obtain risk haplotype frequencies. Deletion screening in the CFH locus was performed by MLPA (MRC-Holland) and IgG Factor H autoantibodies by ELISA (Viditest). Kruskal-Wallis and Chi-Square test were performed to evaluate differences in total number of risk haplotypes and haplotype frequencies between categories and controls.
Results

11 out of 39 patients have shown genetic variants (n=9) or autoantibodies (n=2) that can be associated to aHUS. We did not find large deletions in the CFH locus, with the exception of the polymorphic CFHR3-R1 deletion. Similar to published aHUS cohorts, we found complement alterations in 59% of patients with aHUS diagnosis based on exclusion. A tendency to signification was found between aHUS and controls in total number of risk haplotypes (1,65 vs 1,14; p= 0,065) and MCP risk haplotype frequencies (47.1% vs 32,5% p= 0,08).
In the other hand, only 1 out of 22 patients (5%) in group II had mutations. This patient presented a TMA associated to HELLP syndrome that remained unresolved 72 hours after induced delivery. We did not find statistically significant differences between group II and controls neither in total number of risk haplotypes per patient nor in MCP or CFH risk haplotype frequencies.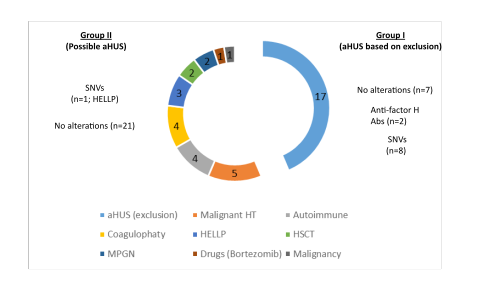 Conclusion
Results of our cohort suggest that lost of regulation of the complement system is not a common mechanism leading to TMA when an aHUS diagnosis of exclusion is not met. Although aHUS is a very rare disease, information contained in case reports should be taken with caution because negative results tend to be unpublished.
Session topic: 34. Thrombosis and vascular biology - Biology & Translational Research
Keyword(s): Complement, Genetic, Hemolytic anemia, Thrombotic microangiopathy