Abstract: PS1565
Type: Poster Presentation
Presentation during EHA24: On Saturday, June 15, 2019 from 17:30 - 19:00
Location: Poster area
Background

Currently, isolation of natural regulatory T cells (nTregs) and in vitro-expanded nTregs was shown to be an effective therapy to patients with graft-versus-host disease (GVHD). However, shortage of nTregs in peripheral blood and time consumption of expansion in vitro may eventually limit the clinical application. Conversely, induction regulatory T cells (iTregs) can be generated in vitro from naïve T cells and to a large number of iTregs in short time. Regulatory T cells would decay after a period of time, in vivo or in vitro. Keeping a certain number of iTregs for the GVHD treatment is necessary. Repetitive supplement of iTreg cells may provide a way to improve the GVHD therapeutic efficiency.
Aims
This study was to evaluate the possibility of repetitive supplements of TGF-β1-induced regulatory T cells to decrease the severity and incidence of aGVHD in mice.
Methods

Splenocytes from C57BL/6 mice were used as a source of naïve T cells by a CD4+ naïve T cell isolation kit. To induce iTregs, the CD4+ naïve T cells were incubated with anti-CD3/CD28 coated 24-well plate in the presence of 20 U/ml IL-2 and 50ng/ml TGF-β1 for 3 days. iTregs were harvested and identified as the expressions of CD4+/CD25+/FoxP3+/CD127- via flow cytometry. In this experiment, recipients (BALB/c) were irradiated with 800 cGy and then infused with donor (C57BL/6) bone marrow cells with (TCD-BM+CD4T) or without donor T cells (TCD-BM) by intravenous injection. Mice infused with TCD-BM+CD4T cells would express the phenotype of aGVHD. iTregs at the dose of 8x106 were injected into the mouse treated with TCD-BM and donor T cell for one or two times (TCD-BM+CD4 T +iTreg) during the study period. The whole study procedure was shown in Fig.1. The GVHD phenotypes, body weights and survival rates of mice were closely monitored for over 60 days.
Results

According to our preliminary data, it indicated the injection of iTregs in the prevention of aGVHD was feasible (Fig.2). Consequently, preventative efficiency of repetitive iTregs supplements in TCD-BM mice was conducted. First of all, the efficacy in aGVHD prevention of single-dose iTregs was compared with the repetition-dose iTregs. The data showed in Fig.3. It indicated that the body weight could recover to 81±3.3% in repetition-dose of iTreg, comparing with the 64±2.2% in single-dose of iTregs within 28 days. As the TCD-BM mice recovered to 90±2.2% in body weight (Fig.3A). Besides, the survival rate was 66.7% in repetitive treatment arm, however, the survival rate was only 37.5% in single-dose arm within 28 days. As the TCD-BM survival rate was 76.1%. The BM-CD4T mice with aGVHD phenotype could survive no more than 12 days. Furthermore, we investigated the survival time of the continual iTreg supplements mice. The data showed in Fig.4. After 66 days later, the body weight of iTregs treated mice could maintain the recovery efficiency to 79±2.9% and the survival rate to 63%, comparing with the TCD-BM mice was 88±0.8% and 73%. All of these mice could keep alive more than 90 days. It indicated that more alive iTregs to prevent GVHD occurrence more efficient.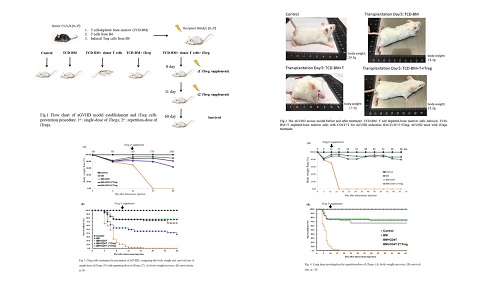 Conclusion

Repetitive supplement of iTreg cells to TCD-BM+CD4T-treated mice could maintain the mice in high survival rate. It is a good way to minimize GVHD by providing more of the functional iTregs to GVHD patients continuously. This result should provide a novel-cell based treatment for reducing the risk of acute GVHD within short time clinically.
Session topic: 21. Stem cell transplantation - Experimental
Keyword(s): Acute graft-versus-host disease, T regulatory cells