Abstract: PS1561
Type: Poster Presentation
Presentation during EHA24: On Saturday, June 15, 2019 from 17:30 - 19:00
Location: Poster area
Background
Allogeneic SCT is curative for pts with relapsed FL. This procedure, however, is not feasible for a substantial # of pts. As an alternative, we evaluated the role of ASCT with addition of rituximab (R) to BEAM (carmustine, etoposide, cytarabine, and melphalan) conditioning, an approach that has been shown to improve survival in pts with relapsed aggressive lymphoma receiving ASCT (Khouri IF, Clin Cancer Res 2018; 24:2304-11).
Aims
Herein we report on long-term outcomes in 96 pts with relapsed FL treated with R-BEAM between 2000-2017. 
Methods
Pts were enrolled if they had no HLA-matched donors or were not approved by their financial carrier to receive an allogeneic SCT. Pts received two doses of rituximab (375 mg/m2 and then 375-1000 mg/m2 one week later) during mobilization of stem cells, followed by two additional doses of 375-1000 mg/m2on days +1 and +8 after ASCT with BEAM conditioning.
Results
Median age was 55.7 years and 32 pts (33%) were >60 years. Thirty-seven pts (39%) had a HCT-CI of > 3. The median prior number of treatments was 2 (range, 1-9); 66 pts (69%) had rituximab-chemo induction at diagnosis. Sixty-one pts (64%) relapsed within 2 years of their induction treatment and median duration of last remission prior to ASCT was < 2 years in 75% of pts. Median time from diagnosis to transplant was 38.5 months. Fifty-six (57%) pts received ASCT in first relapse. At transplant, 49 pts (51%) were in CR, 43 (45%) in PR and 4 (4%) had low volume stable disease. No pts had evidence of bone marrow involvement at SCT. Most pts (85%) received high-dose R with the BEAM. The median number of CD34+ cells infused was 5.8 (range, 1.8-21.7) x 106/kg. With a median follow-up for all pts of 94.1 months (range, 1.2-206.6 months), the overall survival (OS) and progression-free-survival (PFS)  rates at 8-years were 70% and 46%, respectively. Patient demographic data, disease characteristics, type of induction chemo and time of first or last relapse, as well as year-and transplant characteristics and their correlation with outcomes were evaluated. Pts aged ≤ 60 years experienced significantly better OS compared with those > 60 years of age (Figure). By multivariable analysis, age ≤ 60 years [HR 0.41 (0.20, 0.86); p=0.018] and higher dose of CD34+ cells infused [HR 0.86 (0.74, 1.00); p=0.05] were associated with better OS and a trend for a better PFS.  The 8-year cumulative incidence of secondary MDS/AML was 8%. At the time of this analysis, 33 pts died due to disease progression (n=15), secondary cancer (n=10; 4 of these also had progressive lymphoma), infection (n=4), or unknown causes (n=4).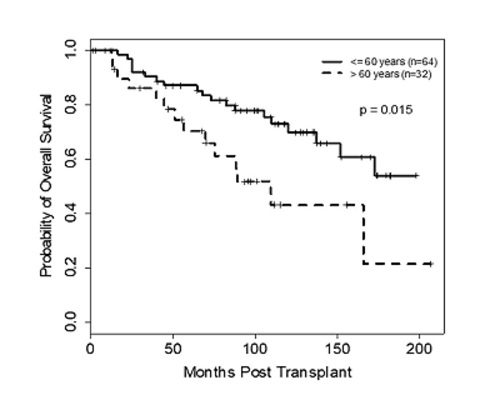 Conclusion
These results demonstrate long-term survival in younger pts with relapsed chemosensitive FL who received R-BEAM followed by ASCT.  Comparative analysis of this strategy to novel targeted small molecules inhibitors without ASCT is warranted.
Session topic: 22. Stem cell transplantation - Clinical
Keyword(s): Autologous peripheral blood stem cell tansplantati, Follicular lymphoma, Rituximab