Abstract: PS1559
Type: Poster Presentation
Presentation during EHA24: On Saturday, June 15, 2019 from 17:30 - 19:00
Location: Poster area
Background
BEAM (carmustine, etoposide, cytarabine, and melphalan) is considered the gold standard conditioning regimen for autologous stem cell transplantation (auto-SCT) in lymphoma. However, a shortage of old drugs is a worldwide problem, and carmustine (BCNU) is on this list. Alternative regimens are therefore being developed and used by many institutions. Semustine (Me-CCNU), an alternative oral nitrosourea agent, has been chosen as a potential substitute. In China, we substituted BCNU by Me-CCNU to provide the modified conditioning regimen SEAM (semustine, etoposide, cytarabine, and melphalan). 
Aims
The aim of this study was to evaluate the safety and efficacy of the SEAM regimen followed by auto-SCT for malignant lymphoma patients.
Methods
We retrospectively reviewed the records of patients with lymphoma who underwent auto-SCT with SEAM regimen (n=97) from January 2010 to June 2018 in our center. We evaluated the safety and efficacy of the SEAM regimen by comparing with previous studies using BEAM as conditioning regimen.
Results
The median age of patients (n=97) was 42 years (range, 15-65). The median time to neutrophil engraftment was 9.5 days (range, 7-15 days), and the median time to platelet engraftment was 12 days (range, 7-25 days). Grade 3-4 nausea/vomiting, mucositis and diarrhea were observed in 21.6%, 36.1%, and 11.3% of patients, respectively. Veno-occlusive disease (VOD) and idiopathic pulmonary syndrome (IPS) were not observed. Treatment-related mortality (TRM) at 100 days occurred in 2 patients (2.1%). After a median follow-up time of 53.9 months, 31 patients (32.0%) showed progression over a median duration of 4.87 months (range, 1.1-40.53) after transplantation. In addition, the 3-year incidence of disease relapse or progression (CIR) was 34%. The estimated progression-free survival (PFS) and overall survival (OS) at 3 years were 62% and 75%, respectively. Compared with previous studies using BEAM as the conditioning regimen, this study shows that the SEAM conditioning regimen has a comparable efficacy and safety profile.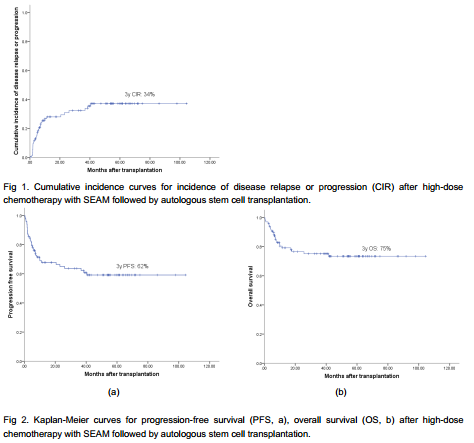 Conclusion
The incidence and severity of non-hematological regimen-related toxicities of the SEAM conditioning regimen in this study were almost identical to that of BEAM conditioning regimen as reported in the previous studies. The SEAM conditioning regimen followed by auto-SCT was well tolerated and had an efficacy and safety profile comparable to BEAM. Therefore, SEAM conditioning regimen is feasible whether in efficacy, safety or sources of drugs and might be an ideal alternative to BEAM conditioning regimen for auto-SCT in lymphoma.
Session topic: 22. Stem cell transplantation - Clinical
Keyword(s): Autologous hematopoietic stem cell transplantation, Lymphoma