Abstract: PS1558
Type: Poster Presentation
Presentation during EHA24: On Saturday, June 15, 2019 from 17:30 - 19:00
Location: Poster area
Background

Transplant-associated thrombotic microangiopathy (TA-TMA) is an early complication of hematopoietic stem cell transplantation (HSCT) that usually occurs within the first 3 months and has a high mortality rate of approximately 50–75%. TA-TMA is less common in autologous (0–27%) than in allogeneic HSCT (6–76%). We previously reported risk factors and mortality of TA-TMA with concomitant acute graft versus host disease (aGvHD) (Xiao Liu, Eur J Haematol, 2018). Recently, the use of haploidentical (HID) donors has continued to increase, but no information is available on the incidence and outcomes of TA-TMA patients after HID allo-HSCT.
Aims

To compare the incidence and outcomes of TA-TMA in HID recipients with those of matched sibling donor (MSD) transplantation.
Methods

In this retrospective, nested case-control study, 102 consecutive TA-TMA patients (HID: 87 patients,  MSD: 15 patients) were identified from a total of 3726 patients who underwent allo-HSCT at Peking University People's Hospital between 2009 and 2018. Patients with TA-TMA and controls were matched for follow-up time after transplantation (total n=278). TA-TMA were diagnosed based on the clinical suspicion of the physician according to the diagnostic criteria for overall TMA (Byung-Sik Cho, Transplantation, 2010). Upon diagnosis of TA-TMA, all CNIs were discontinued, and monoclonal antibodies, TPE and other supportive treatments were used as required by the patients' condition. Cox regression was used to identify independent risk factors associated with the occurrence and outcomes of TMA.
Results

The 10-year cumulative incidence of TA-TMA occurrence in HID recipients was 3.5%, which was significantly higher than that of the MSD group (Figure 1, p<0.001). A total of 60.5% of TA-TMA events occurred in the first 3 months after HSCT. TA-TMA patients in the HID group were younger, more likely to receive additional anti-human T-lymphocyte immunoglobulin during conditioning and had more ABO mismatches and more concomitant aGvHD. The time from transplantation to the TA-TMA diagnosis was comparable between the two groups (p=0.365). In the multivariate Cox regression analysis, concomitant aGvHD ≥ grade 3 (HR 2.629, 95%CI 1.363-5.069, p=0.004), higher doses of corticosteroids administration (HR 1.005, 95%CI 1.002-1.007, p<0.001), but not the HID/MSD donor type, were each associated with an increased risk of TA-TMA development in HSCT patients. With a median follow-up of 374 days, the 1-week, 1-month, and 1-year probabilities of overall survival (OS) of the TA-TMA patients were 92.6%, 56.9% and 16.5% in the HID patients and 53.3%, 20.0% and 19.3% in the MSD patients, respectively. The main cause of death was disease-related. Multivariate analysis showed that the only significant predictive factor was the time from HSCT to aGvHD (HR 0.845, 95% CI 0.934-2.661, p=0.009). HLA mismatch showed no significant correlation with either long-term OS (p=0.464) or nonrelapse mortality (p=0.322).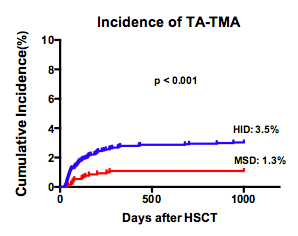 Conclusion

TA-TMA is more common in HID than in MSD HSCT. However, HID is not an independent risk factor of the occurrence of TA-TMA, and OS is comparable between the groups. Further studies on the role of HID in the setting of TA-TMA are required to confirm these findings.
Session topic: 22. Stem cell transplantation - Clinical
Keyword(s): Haploidentical stem cell transplantation, Incidence, Outcome, Thrombotic microangiopathy