Abstract: PS1547
Type: Poster Presentation
Presentation during EHA24: On Saturday, June 15, 2019 from 17:30 - 19:00
Location: Poster area
Background
Autologous stem cell transplantation (ASCT) is a standard of care in eligible newly-diagnosed patients with multiple myeloma (MM), many of whom will require a second ASCT in their disease course. Therefore, successful, high-yield mobilization of hematopoietic stem cells (PBSCs) is of particular importance in these patients. Pegfilgrastim, a pegylated GCSF with extended serum half-life, maintains therapeutic levels over 2 weeks following single-dose subcutaneous (SC) injection. Several studies have shown pegfilgrastim to be successful in adequately mobilizing PBSCs for ASCT in MM patients, however these studies were mostly performed prior to the introduction of novel therapies in MM. Lipegfilgrastim ("Lonquex", Teva) is a novel long-acting r-metHu GCSF produced by the conjugation of a single 20-kDa polyethelene glycol to the natural O-glycosylation site of GCSF.  Lonquex has been shown to shorten the time of neutropenia in patients undergoing conventional chemotherapy. Lonquex has not previously been studied for stem cell mobilization in MM patients undergoing ASCT.
Aims
Evaluate the efficacy and tolerability of a single SC injection of Lonquex in mobilizing cells for ASCT in 24 patients with MM (ClinicalTrials.gov ID: NCT02488382).
Methods
12 Males and 12 Females were enrolled after Bortezomib (13 pts) or Lenalidomide (11 pts)- baseline induction therapy. Lonquex was given as a single, 6 mg SC injection. PBSCs were collected using the COBE Spectra Apheresis System (Caridian BCT, Lakewood, CO, USA, vv. 6.1 or 7.0.) A 4-fold estimated blood volume was processed daily in 4-5 hours. CD34+ cells were enumerated using flow cytometry, and apheresis was initiated at a PBSC count > 106 cells/L. 1-3 leukapheresis procedures were performed, with mobilization failure defined as a yield of < 2 x 106 cells/kg body weight over 3 procedures. Target CD34 number was 6 x 106 CD34+ cells/kg.
Results
Mobilization was started at 3 (range: 2-5) days after Lonquex injection with a median CD34+ count of 22.65 (range: 3.36-105) x 106 cells/L. Efficiency per collection and total yield are depicted in Figure 1. The median total CD34+ cells mobilized was 7.26 (range: 0.77-12.4) x 106/kg. One patient failed to mobilize, and two patients mobilized < 6 x 106 cells/kg; these patients underwent successful mobilization with plerixafor. Toxicity associated with Lonquex was mild and transient; adverse effects included myalgia (13%), arthralgia (13%), bone pain (13%), headache (8%) and vomiting (4%). Twenty-one patients underwent ASCT following high-dose melphalan. The median CD34+ dose infused at ASCT was 3.9 (range: 3.0-6.0) x 106 cells/kg. Outcomes did not differ from historical controls. 16 patients developed mucositis (11 gr. I-II, 5 gr. III) and 19 experienced neutropenic fever. Three patients received PRBCs and 17 patients received platelet transfusions. All patients engrafted; median neutrophil engraftment occurred on day 11 (range: 11-13) and platelet counts > 20 x 109 cells/L were achieved on day 13 (range: 11-15).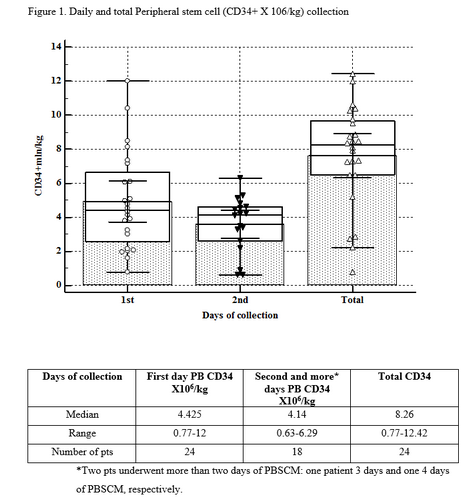 Conclusion
A single, 6 mg SC injection of Lonquex in patients with MM resulted in efficient and safe PBSC mobilization, with adequate CD34+ cell yield, mild transient side effects and successful engraftment following ASCT. Results were not different from historical controls using GCSF or recombinant pegfilgrastim. Lonquex is administered only once, rather than over multiple days, increasing convenience and potentially improving both compliance and quality-of-life (QoL). Our findings may serve the basis for a well design 2-arm comparative study.
Session topic: 22. Stem cell transplantation - Clinical
Keyword(s): Autologous hematopoietic stem cell transplantation, Mobilization, Multiple myeloma, Pegfilgrastim