Abstract: PS1538
Type: Poster Presentation
Presentation during EHA24: On Saturday, June 15, 2019 from 17:30 - 19:00
Location: Poster area
Background
Donation of hematopoietic stem cells (HPC) is considered to be safe. DKMS Foundation coordinates annually over 1000 donations. Post donation follow up (FU) is described in company SOPs, proceeded for 10 years and the results continuously analyzed in regards of donors safety.
Aims
To confirm, that HPC donation is safe. To investigate if donor age and gender have an impact on FU results. 
Methods

Between 01.01.2013-31.12.2016 we coordinated peripheral blood stem cell (PBSC) or bone marrow (BM) donations in 3410 volunteer donors (2817 PBSC, 593 BM). Each donor was requested to perform first Follow up (1FU) lab tests and complete a health questionnaire (HQ) about 30 days after donation. 1FU lab tests included CBC, liver function tests (LFT), kidney function tests (KFT), coagulation panel. We analyzed data of 2543 donors (77%) who completed the 1FU. To mobilize the HPC lenogfrastim or filgrastim was used in standard dosage (7-10 µg/kg/day for 4 or 5 consequent days). In 79% PBSC cases single apheresis was sufficient to meet the product requirements. During BM harvesting autotransfusions were performed in 23% cases. To evaluate the age and gender impact we divided donors in two age categories: 18-30 vs >30 in both genders. Results were assessed by physician and in case of abnormalities additional tests were performed. Some donors required control in more than one parameter. In case of complaints in HQ further tests could be performed. The results were collected and analyzed retrospectively.  
Results
Young male donors performed less 1FU tests (64%) than >30 group (79%). In female donors this difference was less evident (79 vs 85% accordingly). Overall 150 results (5,9%)  required further investigation. This more frequently happened in BM (7,6%) vs PBSC (5,6%). The impact of gender was similar in both age groups: 8,1% F vs 5,1% M in younger and 6,4% F vs 4,7% M in older age groups. In young females 12,1% of abnormalities were after BM vs 7,2% after PBSC. In male this difference was more evident in older group (7,9% vs 4,1%). Analyzing the results of 150 abnormal tests we found: The CBC related abnormalities were the most frequent (87%), with a share of 74% after PBSC and 85% after BM and 88% in women vs 64% in male. There was no difference in CBC retests after PBSC (90%) in females regarding the age, while after BM younger females required CBC control more often comparing to older (85,7% vs 75%). In male the CBC abnormalities after BM were noticed (86,7% vs 58% after PBSC). In male there was no difference in CBC retests regarding the age, but depended on method (BM 86,6% vs PBSC 58%). The substantial part of CBC abnormalities were caused by iron deficiency and mild neutropenia and a few cases of thrombocytopenia. The LFT  tests revealed slight elevation (19%) with prevalence in male vs female (33 vs 5,3%). In male LFT were controlled more frequently in younger and after PBSC. The KFT (8,7%) and coagulation panels (5,3%) did not reveal significant abnormalities during 1FU in whole group of additional tests. Most abnormalities were transient. Iron deficiency was handled by iron supplementation successfully. No significant or symptomatic lab abnormalities were recorded. No serious adverse events (SAE) were noticed in the analyzed group.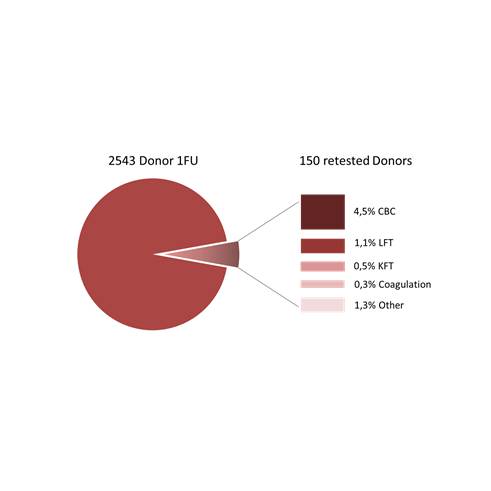 Conclusion
HPC collection in healthy voluntaries is safe and well tolerated. Abnormalities in the 1FU are mild and mainly refer to CBC, especially in women regardless of the age group. Severe side effects are extremely rare. 
Session topic: 22. Stem cell transplantation - Clinical
Keyword(s): Follow-up, Hematopoietic cell transplantation, Unrelated donor