Abstract: PS1530
Type: Poster Presentation
Presentation during EHA24: On Saturday, June 15, 2019 from 17:30 - 19:00
Location: Poster area
Background
Timed sequential busulfan with fludarabine (Bu-Flu) is a promising myeloablative regimen for patients undergoing matched sibling (MSD) or unrelated (MUD) donor transplant (HCT), which is well tolerated and yields low non-relapse mortality (NRM) in older patients and those with significant comorbidities. [Popat et al, Lancet Haematology 2018]. However, this concept was not tested in the haploidentical setting. Also, whether this approach can be used with post-transplant cyclophosphamide (PTCy) in MSD, MUD and haploidentical HCT is unknown.
Aims
We started a prospective phase II trial to assess (a) if PTCy could be safely incorporated in our timed sequential Bu-Flu regimen, and (b) whether this approach could be used in patients undergoing MSD, MUD and haploidentical HCT. The objectives were safety and to obtain preliminary evidence of efficacy.
Methods
Patients with hematological malignancies received fixed dose busulfan 80 mg/m2 intravenously (i.v.) either on days -13 and -12 (n=45), or on days -20 and -13 (n=10). Then, all patients received fludarabine 40 mg/m2 i.v. on days -6 to -2 followed by busulfan i.v. on days -6 to -2, dosed to achieve target area under the curve (AUC) of 20,000 umol/min for the whole course based on pharmacokinetic studies. Thiotepa 5 mg/kg i.v. was given on day -7 to the haploidentical group. GVHD prophylaxis included PTCy 50 mg/kg i.v. given on days +3 and +4 and tacrolimus starting day +5. Haploidentical and later MUD recipients also received mycophenolate mofetil.
Results
We enrolled 55 patients with a median age of 47 years (range, 15-65). Diagnoses were acute myeloid leukemia or myelodysplastic syndrome (n=30), chronic myeloid leukemia or myeloproliferative disorder (n=9), acute lymphoblastic leukemia (n=6), lymphoma (n=5) and myeloma (n=5). About half had haploidentical donor (n=26, 47%), one-third had MUD (n=18) and the rest had MSD (n=11, 20%). Disease risk index was high in 18 (32%), intermediate in 32 (58%), and low in 5 (9%) patients. HCT-comorbidity index was >3 in 22 (40%) patients.
45 patients experienced grade 3-5 events within 100 days. These included culture-negative neutropenic fever (32 events), infections (28 events), gastrointestinal (22 events) – predominantly grade 3 mucositis (13 events), pulmonary (11 events; including 6 episodes of pneumonia) and hepatic (11 events – mostly asymptomatic hyperbilirubinemia; 6 events). Three patients suffered diffuse alveolar hemorrhage, 1 of which was terminal. There were 4 cases of venoocclusive disease, with 1 being fatal.
There were no graft failures. The median time to neutrophil engraftment was 17 days (95% CI 13-39) and that of platelets (> 20K/µL, n=49) was 25 days (95% CI 11-167). The rate of grade II-IV aGVHD was 38% (95% CI 25-51%) and that of grade III-IV acute GVHD was 9% (95% CI 1-17%) at day 100. Rates of chronic GVHD and extensive chronic GVHD were 10% (95% CI 2-28%) and 8% (95% CI 0-15%), at 1-year respectively.
With a median follow up of 17 months (range, 5-28), 1 year OS was 71% (95% CI 60-84%), NRM was 20% (95% CI 9-31%), and relapse rate was 17% (95% CI 7-27%). One year OS in the MSD was 91% (95% CI 75-100%); it was 72% (95% CI 54-96%) in the MUD group, and 62% (95% CI 45-83%) the haploidentical group; P=0.11 [Figure].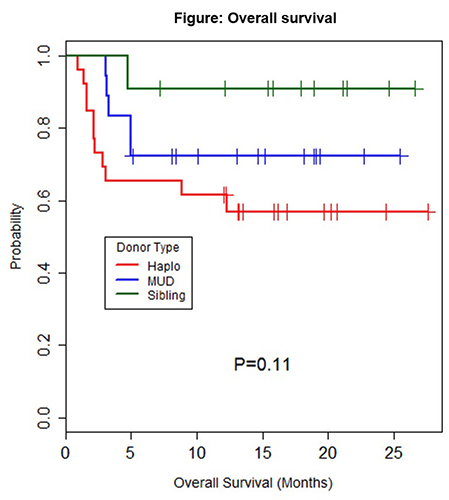 Conclusion
Myeloablative timed sequential busulfan with fludarabine and PTCy is safe in MSD, MUD and haploidentical HCT. It appears to reduce the incidence of severe acute GVHD and chronic GVHD without an apparent increase in relapse. 
Session topic: 22. Stem cell transplantation - Clinical