Abstract: PS1529
Type: Poster Presentation
Presentation during EHA24: On Saturday, June 15, 2019 from 17:30 - 19:00
Location: Poster area
Background
Transplant-associated thrombotic microangiopathy (TA-TMA) is a severe and life-threatening complication of hematopoietic cell transplantation (HCT) that often coincides with graft-versus-host-disease (GVHD). Although endothelial damage seems to be the common denominator for both disorders, the role of complement system, neutrophils and coagulation has not been clarified.
Aims

In an effort to distinguish the pathogenesis of TA-TMA from GVHD, we evaluated complement activation, neutrophil extracellular trap (NET) release, endothelial damage and activation of coagulation cascade.
Methods

We recruited consecutive adult TA-TMA (International Working Group/IWG criteria), acute and/or chronic graft-versus-host-disease (GVHD) and control HCT recipients in a 1:1:1 ratio (January 2015-June 2018). Complement activation was detected with the modified Ham test (mHam) and soluble C5b-9; NETs with extracellular DNA and myeloperoxidase/MPO-DNA; endothelial damage with soluble thrombomodulin (sTM) and soluble vascular cell adhesion molecule 1 (sVCAM-1); and, coagulation with thrombin-antithrombin (TAT) complex.
Results

We studied 10 TA-TMA, 10 GVHD and 10 control patients. TA-TMA patients suffered from severe acute and/or extensive chronic GVHD. TA-TMA presented at median +109 (9-930) day post-transplant. Full donor chimerism was evident in all patients. No significant difference in transplant characteristics was observed among groups, except for the significantly lower GVHD rate in the control group.
We observed that the levels of mHam (p=0.001), soluble C5b-9 (p=0.005), extracellular DNA (p<0.001), MPO-DNA (p=0.029) and TAT complex (p=0.001) were significantly increased in TA-TMA compared to control patients; whereas there was no significant difference between the GVHD and the control group (Figure). On the other hand, sTM was significantly increased in both TA-TMA and GVHD patients compared to controls.
Interestingly, soluble C5b-9 values higher than 321.5 ng/ml conferred a specificity of 90% and sensitivity of 70% for TA-TMA diagnosis in the receiver-operating characteristic curve (area under the curve/AUC=0.823, p=0.003). Similarly, extracellular DNA higher than 67.6 AU showed a specificity of 94.6% and sensitivity of 70% for TA-TMA diagnosis (AUC=0.953, p<0.001).
 Furthermore, soluble C5b-9 was strongly correlated with extracellular DNA (r2=0.510, p=0.005). An additional positive correlation of TAT complex with soluble C5b-9 and extracellular DNA (r2=0.161, p=0.032 and r2=0.192, p=0.035) was found.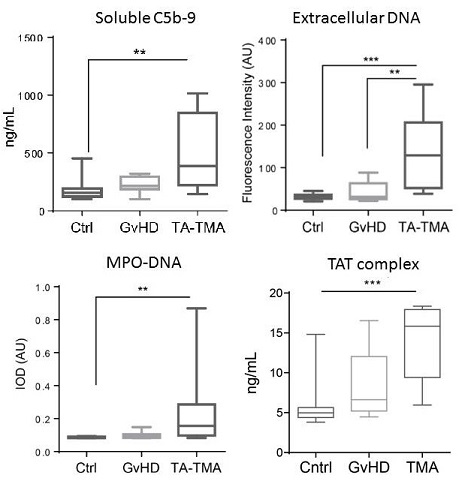 Conclusion

Our study suggests for the first time a crosstalk among complement system, neutrophil activation through NET release and activation of the coagulation cascade in TA-TMA. More importantly, complement activation markers and circulating forms of NETs could be of diagnostic and prognostic value in patients with TA-TMA, whereas this vicious cycle might provide targets for future therapeutic exploitation.
Session topic: 22. Stem cell transplantation - Clinical
Keyword(s): Complement, Hematopoietic cell transplantation, Thrombotic microangiopathy