Abstract: PS1527
Type: Poster Presentation
Presentation during EHA24: On Saturday, June 15, 2019 from 17:30 - 19:00
Location: Poster area
Background
Serious morbidity in young children with sickle cell anemia (SCA, HbSS and HbSβ0thalassemia) is well-described and begins early in life with the onset of the physiologic decline of fetal hemoglobin. The BABY HUG trial showed that a fixed dose (20mg/kg/day) of hydroxyurea initiated in infants reduces acute SCA-related complications, but participants continued to experience acute SCA-related complications and to develop end-organ damage.
Aims
Evaluate if hydroxyurea escalated to maximum tolerated dose (MTD) prevents end-organ damage in young children prior to their 6th birthday, and describe the impact of known genetic modifiers disease severity on treatment outcomes.
Methods
The Sickle Cell Clinical Research and Intervention Program (SCCRIP, NCT 02098863) was approved by the St. Jude Children's Research Hospital IRB, and participants provided written informed consent. SCCRIP is a multicenter, longitudinal, cohort of individuals with SCD of any genotype or treatment exposure. Children initiated hydroxyurea at a dose of 20 mg/kg per day with escalation of the dose by 5 mg/kg increments every 8-12 weeks until an MTD was identified, defined by an absolute neutrophil count (ANC) of 2,000-4,000 x106/L. The primary end-point was longitudinal development of organ damage (TCD velocity >170 cm/sec, overt stroke, abnormal MRI/MRA, or surgical splenectomy) and secondary end-points were acute SCA-related complications (pain, acute chest syndrome, splenic sequestration, or simple transfusion) in treated versus untreated infants. A generalized linear mixed model (GLMM) with quasi-poisson link function adjusted for age was performed and the slopes and standard error were estimated for each outcome. From birth, the time to first occurrence for outcomes were visualized with the use of Kaplan-Meier curves and compared with the log rank test. Univariate regression models were performed with Cox regression. All statistical tests were two-tailed and a p value of <0.05 was considered statistically significant, and analyses were performed using R software version 3.4.3.
Results
None of the total 327 infants died in the first six years of life. In 142 (43.4%) infants, hydroxyurea was initiated at a mean (SD) of 2.8 (1.5) years of age and escalated to 29.1 (4.8) mg/kg. Children who received hydroxyurea had more severe disease in the first 12 months of life, with more vaso-occlusive pain (21.8 vs. 6.5 events; p=0.006), splenic sequestration (16.9 vs. 3.2 events; p<0.001) and transfusions (26.8 vs. 3.2 events; p<0.001) per 100 patient-years compared to children who did not initiate hydroxyurea. As children aged, if treated with hydroxyurea at MTD they had less organ damage (HR 0.46 [95%CI:0.29-0.72]; p<0.0001) and fewer acute SCA-related events (HR 0.41 [95%CI:0.26-0.64]; p<0.0001) compared to untreated children. Untreated children developed end-organ damage and acute complications earlier in life and at a higher rate compared to those treated with hydroxyurea (Figure). One or two BCL11A (rs4671393) mutations reduced the incidence of any organ damage (est. -0.56; SE: 0.25, p= 0.02) and acute SCA-related complications (est. -0.43; SE: 0.14, p= 0.002), but hydroxyurea continued to be associated with less end-organ damage and acute SCA-related complications (data not shown). Toxicities were uncommon.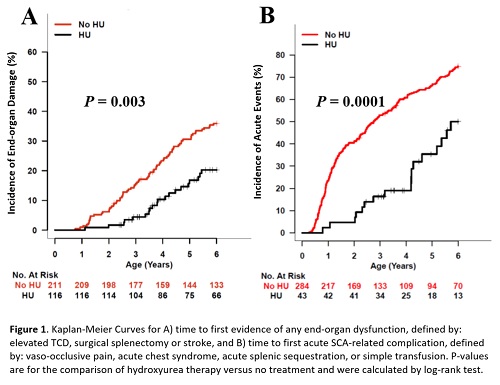 Conclusion
In young children with SCA, hydroxyurea escalated to MTD is safe and prevents end-organ damage and reduces the frequency of acute SCA-related events. Children with BCL11A have less end-organ damage and acute complications, but continue to have therapeutic benefit from hydroxyurea therapy.
Session topic: 26. Sickle cell disease
Keyword(s): Children, Genetic, Hydroxyurea, Sickle cell