Abstract: PS1525
Type: Poster Presentation
Presentation during EHA24: On Saturday, June 15, 2019 from 17:30 - 19:00
Location: Poster area
Background

Sickle cell disease (SCD) is a monogenic hereditary hematologic disease, being the most common in Brazil, in which about 3.500 children are born each year with it (Felix et al, 2010). It is characterized by the substitution of adenine for thymine, encoding valine rather than glutamic acid, at position 6 of the β-globin chain. In deoxygenation, the erythrocytes containing the mutated hemoglobin, hemoglobin S (HbS), take on the sickle shape due to Hbs polymerization (Eaton & Hofrichter, 1990). In Brazil, only the use of hydroxyurea (HU) is allowed by Agência Nacional de Vigilância Sanitária (ANVISA). However, in 2017, the commercialization of L-glutamine was permitted by the Food and Drug Administration (FDA) in the United States of America, which proved to be effective in reducing the main acute effects of SCD, preventing the oxidative stress (Gardner, 2018). Recent studies have revealed a previously unrecognized role of adenosine in normal and sickle erythrocytes, the adenosine signaling in the regulation of 2,3-bisphosphoglycerate (2,3-BPG) production, an erythrocyte-specific metabolite that induces the release of O2. And in 2012, Carlsson et al. verified the activity of new 1,2,4-triazoles that showed, among activities in other adenosine receptors at varying levels, ADORA2B receptor antagonistic activity.
Aims

The main objective of this work is to study the effect of the 1,2,3-triazolic substances NHSulf, NHSulfNH2, NHSulfCl and NHSULfCH3 on erythroid physiology and pathophysiology in normal and sickle cell patients.
Methods

Four experiments were performed with samples from control patients and sickle cell patients. First the samples are centrifuged for separation of the erythrocytes and  the buffy coat removed, washed with PBS, this process is repeated three times and is done in all experiments. In the osmotic fragility assay the samples are placed with control, DMSO, or HU, or the substances in increasing concentrations of saline (NaCl 0.1% to 0.9%), and then read at 540nm. 2.3-BPG levels are measured with the Roche comercial Kit. The erythrocyte sickling reversion test with sickling induced by the addition of sodium metabisulfite (MB) (for 2h) and the substances are added (for 2h), and the reversal of the sickle cells was verified in 400x magnification, and the percentage of sickle cells compared to control. Polymerization inhibition was also verified, adding to the samples, DMSO, or HU, or the substances and then adding the MB, and reading in Elisa at 700nm. 
Results

Osmotic fragility test and 2,3-BPG levels were done with control patients and was observed that substances NHSulf, NHSulfNH2, presented statistically lower osmotic fragility in osmotic stress (lower saline concentrations). NHSulfCl and NHSULfCH3 did not present significant difference compared to control. As for 2,3-BPG levels the samples presented a dose-dependent result to different drugs concentrations. Reversal sickling test and inhibition of polymerization showed that substances (0.33 mM) have a potential of sickling reversion when compared to control and HU. For polymerization inhibition it can be seen that the molecules decreased polymerization significantly when compared to control, and possess greater potential when compared to HU.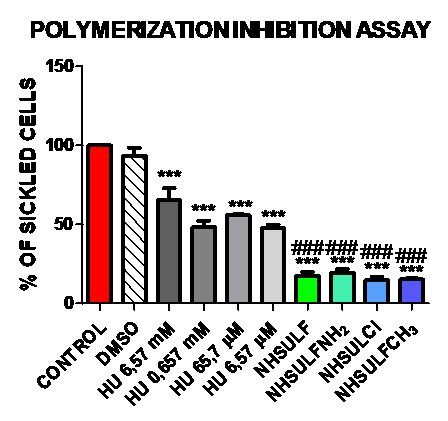 Conclusion

Thus, we observed that the substances NHSulf, NHSulfNH2, NHSulfCl and NHSULfCH3 has the potential to decrease osmotic fragility and to increase 2,3-BPG levels in control erythrocytes, and to reverse the sickling and to inhibit polymerization in sickle cell patients.
Session topic: 26. Sickle cell disease
Keyword(s): Sickle cell disease