Abstract: PS1513
Type: Poster Presentation
Presentation during EHA24: On Saturday, June 15, 2019 from 17:30 - 19:00
Location: Poster area
Background

Primary myelofibrosis (PMF) is a myeloid neoplasm impacting patient survival and quality of life. Although JAK2 inhibitors were recently approved for the treatment of patients with PMF, there is still a lack of strong evidence supporting a survival benefit in this patient population.1 Existing published survival data focus on describing duration of survival, however as there is no general population comparator for this outcome, interpretations are often subjective.
Aims

This study aimed to quantify the real-world mortality caused by PMF in comparison with the general population in Germany, France, Italy, Spain, and the UK (EU5).
Methods

A simulation model was developed in Microsoft Excel, using parameters sourced from a large-scale European-based real-world retrospective MF study by the International Working Group for Myeloproliferative Neoplasm Research and Treatment.2 Baseline demographics predictive of survival, including age, sex, and International Prognostic Scoring System (IPSS) risk level, were simulated using the patient characteristics statistics published by Cervantes et al. in 2012.2 The survival of patients with PMF was simulated using the exponential survival function. To examine the rate of mortality, the exponential distribution parameter (modeled as a function of age, sex, and IPSS risk level) was estimated using published median survival times and derived hazard ratios. Patient characteristics and survival statistics from the simulation sample were verified with the published data.2 Real-world life-year loss was calculated as the difference between simulated survival time and the population-level life expectancy specific to the patient's age, sex, and country.
Results
A total of 5,000 patients were simulated (Table), with 1,000 from each EU5 country. The simulated sample generated similar patient characteristics statistics and median survival years as found by Cervantes et al.2 The additional mean life-year loss of PMF was estimated at 9.6 years (median 10.7 years; 5 and 95 percentile [−18.7, 33.4]), with a 45% relative survival loss, compared with the general population. Overall, 81% of patients with PMF were estimated to experience life-year loss. More pronounced life-year loss was found to be associated with being male (mean 11.3 years; 57% relative survival loss; 86% with life-year loss), age <65 years (mean 14.3 years; 48% relative survival loss; 84% with life-year loss), and IPSS Intermediate-2 to High risk classification (mean 15.4 years; 73% relative survival loss; 95% with life-year loss). The results were consistent among the EU5 countries modeled.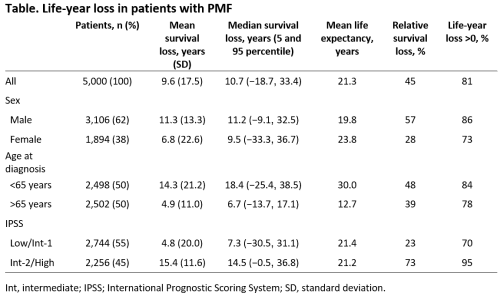 Conclusion

PMF patients experience significant real-world life-year loss when compared with the general population in Europe.
References
1. Cervantes F, Pereira A. Blood 2017;129:832-37.
2. Cervantes F, et al. J Clin Oncol 2012;30:2981-7.
Session topic: 35. Quality of life, palliative & supportive care, ethics and health economics
Keyword(s): Myelofibrosis, Survival, Survival prediction