Abstract: PS1509
Type: Poster Presentation
Presentation during EHA24: On Saturday, June 15, 2019 from 17:30 - 19:00
Location: Poster area
Background
Assessment of patient-reported outcomes (PRO) has become essential for evaluation of the burden of disease and of the benefits and side effects of therapy.
Aims
Here, we compare parameters of QoL in patients with relapsed/refractory multiple myeloma (RRMM) with an age-matched control population and evaluate the impact of relapse therapy with ixazomib, thalidomide and dexamethasone (IxaThalDex) followed by ixazomib maintenance therapy on several dimensions of QoL.
Methods
PRO was assessed using the EORTC QLQ-C30 and the EORTC QLQ-MY20 instruments at baseline and at the beginning of each cycle of induction and maintenance therapy. Eighty-nine patients were enrolled and started on induction therapy receiving ixazomib (4mg [3mg in pts ≥75 yrs], d 1,8,15), thalidomide (100mg [50mg in pts ≥75yrs] daily) and dexamethasone (40mg [20 in pts ≥75yrs]/week) for 8 cycles and ixazomib maintenance therapy (4mg d1, 8, 15) for 12 months. Score interpretation regarding what was considered a clinically meaningful difference was guided by recommendations by Cocks et al., JCO, 2010. Differences between baseline and end of induction therapy were analyzed in all 43 patients who completed all 8 cycles. 2.337 individuals aged 60-69 years of the general population served as controls (Nolte et al., Eu J Cancer, 2019). Differences were assessed by T test.
Results

In comparison to the general population, significant impairment in several QoL dimensions was noted in our patients with RRMM, such as physical (∆ -12.4, p<0.0001), role (∆-26.6, p<0.0001), and social function (∆-17, p<0.0001), while no clinically relevant differences were seen in global QoL (∆-6.5, p=0.0059), emotional (∆-6.5, p=0.0038) and cognitive function (∆-5.9, p=0.0014). During induction therapy, global health-related QoL and physical function remained fairly stable, while a clinically relevant reduction in pain (∆-13.2, p=0.0285) and an increase in polyneuropathy (PNP) (∆+23.7, p=0.0002) were noted (baseline vs end of induction) (figure 1).
During maintenance treatment (figure 1), a tendency for an improvement in most evaluated dimensions, like global health-related QoL, or physical functioning (significant for cycle 8 only (∆+12.9, p=0.0398)) was observed. For cognitive functioning, a clinically relevant difference was observed at cycle 11 and at end of maintenance, while for social functioning a ∆ ≥+10 was noted at cycles 4, 9, 10 and at end of maintenance. Regarding the symptom scales, clinically relevant improvements were observed for pain (∆ ≥-10 at cycle 9 and end of maintenance) and fatigue (∆ ≥-10 at cycle 8 and at end of maintenance), while PNP remained stable during maintenance therapy.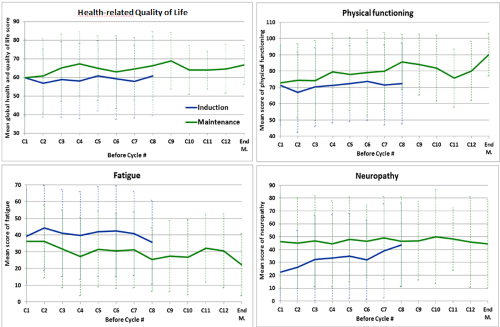 Conclusion

This study shows a significant impairment of several, but not all, dimensions of QoL in patients with RRMM compared to the general population of similar age. In particular, our data show a significant impairment in physical, role, and social function, while emotional wellbeing and other dimensions were only marginally impaired, indicating that patients are able to adapt emotionally even to the very heavy burden of their disease and to maintain almost 'normal' emotional wellbeing. During relapse therapy with IxaThalDex, most dimensions of QoL remained stable, or showed improvement, with the exception of PNP, which worsened significantly. During ixazomib maintenance treatment, health related QoL, physical functioning, and fatigue improved supporting the good tolerance of ixazomib, while no improvement in the presumably thalidomide-induced PNP was noted.
Session topic: 35. Quality of life, palliative & supportive care, ethics and health economics
Keyword(s): Maintenance, Multiple myeloma, Quality of life, Relapse