Abstract: PS1506
Type: Poster Presentation
Presentation during EHA24: On Saturday, June 15, 2019 from 17:30 - 19:00
Location: Poster area
Background

Several large-scale clinical studies have established that the addition of neurokinin-1 (NK-1) receptor antagonist, such as aprepitant, to a regimen of 5-HT3 receptor antagonist with dexamethasone, improved prevention of CINV in patients receiving HEC. While the benefits of aprepitant in the management of CINV in HEC have been well studied for solid tumors, its usefulness in regimens designed for hematologic malignancies is not as clear. 
Aims

This systematic review of literature is to determine if aprepitant is an effective adjunct to standard antiemetic therapy for the management of CINV in patients with hematologic malignancy undergoing highly emetogenic chemotherapy.
Methods

A systematic search of the MEDLINE, EMBASE, and PubMed electronic databases will be conducted and studies will be identified for the period January 2003 to January 2018. Primary inclusion criteria are randomized control trials of aprepitant for the management of CINV among patients undergoing HEC. Studies reporting on non-hematologic malignancies will be excluded from the final sample. Meta-analysis were performed on homogenous studies. Discrepancies will be resolved by discussion with peers and the third-party reviewer. Six studies were selected. Once outcome measures have been identified and pooled, forest plots will be calculated using Review Manager 5 (RevMan 5) by the Cochrane Center. Pooled effect sizes and 95% CI will be reported comparing treatment groups to controls. 
Results

The total pooled sample for six eligible trials is 719 patients with various forms of hematologic malignancies. The results of the meta-analysis were as follows: 1) Acute phase CINV:Four studies reported complete response (CR) rates for the acute phase (<24 hours). All four studies found higher CR rates for the aprepitant group. For this outcome, a pooled odds ratio of 3.17 (95% CI 1.71–5.86) was found in favor of the aprepitant group. No significant heterogeneity was detected (p=0.092). 2) Delayed phase CINV: Only three studies reported CR for the delayed phase (24-120 hours) for a pooled sample of 422 patients. Again, all three studies show outcomes in favor of the aprepitant group versus standard treatment for a pooled odds ratio of 2.00 (95% CI 1.34-3.00). No significant heterogeneity was detected (p=0.59. 3) Overall complete response:For overall CR (0-120 hours after treatment), all six studies reported outcomes resulting in the full pooled sample of 719 patients. All six studies found a higher rate of overall CR for the aprepitant group, with a pooled result of 260 (70.84%) for patients in the aprepitant group and 180 (51.13%) in the standard treatment group. Pooled odds ratio for CR was calculated as 2.40 (95% CI 1.75-3.29) in favor of aprepitant. No significant heterogeneity (p=0.53) was found. 4) No emesis/No nausea: Five studies specifically identified no emesis as a secondary outcome, but only two measured no nausea using the same parameters. Aprepitant performed well in preventing emesis in the overall period (120 hours). 214 (67.30%) patients did not experience emetic events in the aprepitant group compared to 133 (43.89%) for the standard treatment group.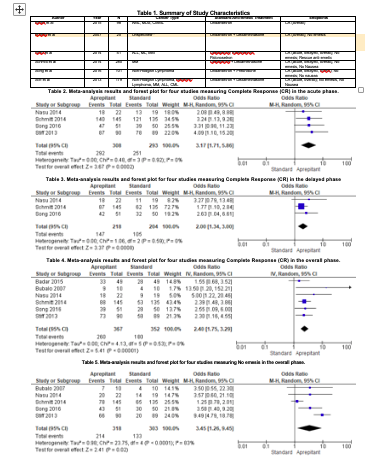 Conclusion

The combination of 5HT3 blocker-based prophylaxis with or without corticosteroids+ aprepitant provides adequate antiemetic therapy for patients receiving multi-day highly emetogenic chemotherapy. 
Session topic: 35. Quality of life, palliative & supportive care, ethics and health economics
Keyword(s): Chemotherapy