Abstract: PS1498
Type: Poster Presentation
Presentation during EHA24: On Saturday, June 15, 2019 from 17:30 - 19:00
Location: Poster area
Background

Filamin A (FLNa) is a protein associated to the cytoskeleton, which plays a major role as a mediator between the cell membrane and the cytoskeleton, and it is involved in several processes like cell motility and signal transduction. Heterozygous mutations in the X-linked FLNA gene are associated with a spectrum of diseases called filaminopathies, which includes macrothrombocytopenia: the affected individuals display two populations of differently sized platelets. One of the possible explanations is the differential expression of the WT or mutated FLNA allele, accordingly to the X chromosome inactivation pattern. As a consequence, any patient sample is a mixture of healthy and mutated cells.
Aims

We sought to investigate the molecular basis of this unusual phenotype, using a human-relevant model able to overcome the limitations described for the murine models. Furthermore, we tried to better understand the role of FLNa in human megakaryopoiesis, which is currently poorly understood.
Methods

We developed an isogenic pluripotent stem cell (iPSC) model, via reprogramming of CD34+ cells from the peripheral blood of two female patients, harboring two intragenic deletions. As iPSCs are clonal models, it is possible to segregate cells expressing the wild-type and the mutated alleles, while preserving the same genomic background.
Results

After the in vitro hematopoietic differentiation of the iPS cell lines, we observed the complete absence of the FLNa protein in the mutated megakaryocytes (MKs), which leads to their incomplete maturation, and particularly the severe inability to produce proplatelets. We also observed defective actomyosin contractility, due to the small GTPase RhoA inappropriate activation. This anomaly was surprisingly and specifically associated with fibrinogen, while other extracellular matrices were not triggering this abnormal cytoskeleton remodeling. Further investigation proved a role for the FLNa/aIIbb3 interaction in the down-regulation of RhoA, using a collection of gene-edited iPSC lines, overexpressing a mutant FLNa deleted of the αIIbβ3-binding domain Ig21, as opposed to deletions of the GPIba-interacting, the RhoA-interacting, and the actin-interacting domains, respectively. Finally, we have been able to show that the chemical inhibition of the RhoA-associated kinase ROCK1/2 restored a correct proplatelet formation.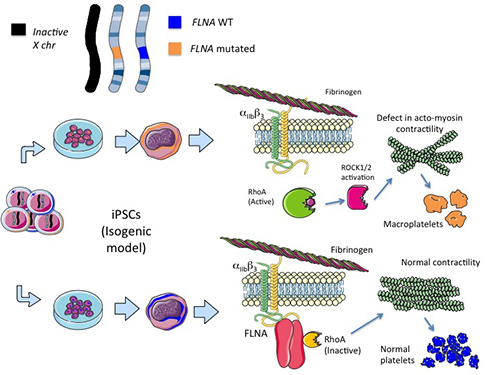 Conclusion

Overall, this work suggests a novel physiopathological mechanism underlying the macrothrombocytopenia, associating the increased RhoA activity to the disruption of the integrin αIIbβ3/FLNa axis. This observation could be extended to other inherited macrothrombocytopenias and introduce a new rational basis for pharmacological treatment of these diseases.
Session topic: 32. Platelets disorders
Keyword(s): Inherited platelet disorders