Abstract: PS1484
Type: Poster Presentation
Presentation during EHA24: On Saturday, June 15, 2019 from 17:30 - 19:00
Location: Poster area
Background
Inherited thrombotic thrombocytopenic purpura (iTTP) is a rare autosomal recessive genetic disease caused by mutations in the ADAMTS13 gene, including homozygous and heterozygous gene mutations. The annual incidence of this genetic disease is less than 1/1000000, and women are more common which the incidence rate is about twice that of men. Five signs and symptoms of iTTP are thrombocytopenia, micro-angiopathic hemolytic anemia, renal failure, fever and neurologic deficits, which caused by the combination of genetic factors and environmental factors which mainly contain pregnancy and infection. Plasma ADAMTS13 activity and ADAMTS13 gene sequencing can be tested in the laboratory, and the plasma ADAMTS13 activity <10% is a diagnostic criteria in the guidelines. About 80 mutations in the ADAMTS13 gene have been identified, including missense mutations, nonsense mutations, deletions or insertion mutations. 
Aims

To do the gene diagnosis and improve the understanding of iTTP.
Methods
A case of iTTP in the department of hematology, The First Affiliated Hospital of USTC was retrospectively analyzed. The patient was a male, aged 15 years old, who was admitted to the ICU ward due to 'sudden unconsciousness for 5 days'. Physical examination: coma, anemia, and there are scattered bleeding spots on the oral mucosa and body skin. According to thrombocytopenia, psychotic symptoms (unclear consciousness, tic) and renal impairment (hematuria),  TTP  was diagnosed. Serum ADAMTS13 activity was tested by surface-enhanced laser desorption/ionization time of flight mass spectrometry(SELDI-TOF). ADAMTS13 antibody was tested by ELISA kit.The patient was treated with methylprednisolone shock and plasma exchange therapy. DNA sequence analysis was conducted of him and his parpents.
Results

Serum ADAMTS13 activity of this patient was less than 5%, and ASAMTS13 antibody was negative, which was considered as congenital TTP. DNA sequence analysis showed that the ADAMTS13 gene of the patient had two mutations on chromosome 9 (1.9q34.2), one was non-synonymous mutation (exon5: c.a530g: p.y177c), the other was nonsense mutation (exon21: c.g2651a: p.w884x), both of which were heterozygous, and the patient was finally diagnosed as iTTP. The patient's parents had no history of thrombocythemia and neurological symptoms, etc. DNA sequence analysis showed that his father was a heterozygote of nonsense mutation of ADAMST13 gene exon21: c.g2651a: p.w884x, and his mother was a non-synonymous mutant heterozygote of ADAMST13 gene exon5: c.a530g: p.y177c.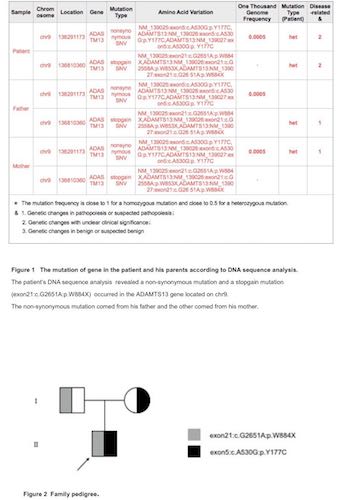 Conclusion

iTTP is a rare autosomal recessive genetic disease due to ADAMTS13 gene mutations, which contain homozygous and heterozygous mutations. Our study revealed novel homozygous mutations, This is the first report of these two mutations.The patient may have developed the disease as a result of a combination of two mutations respectively from his parents. Genetic testing is not only an important measure of diagnosing iTTP, but can also be evaluated for members of the iTTP family who are asymptomatic but at risk of suffering from the disease.
Session topic: 32. Platelets disorders
Keyword(s): ADAMTS13, Gene polymorphism, Thrombotic thrombocytopenic purpura (TTP)