Abstract: PS1474
Type: Poster Presentation
Presentation during EHA24: On Saturday, June 15, 2019 from 17:30 - 19:00
Location: Poster area
Background
Development of aggressive B-cell lymphomas during JAK1/2 inhibitor therapy in patients with myeloproliferative neoplasms (MPN) were reported in 2018 European Haematology Association Meeting in Stockholm. It's important to evaluate the incidence of lymphomas in patients with ruxolitinib.
Aims
We conducted a retrospective study to evaluate the incidence and clinical characteristics of lymphomas in patients with MPN.
Methods
We reviewed laboratory data and clinical record of the patients with MPN diagnosed until Dec 2017 in Tokyo Women's Medical University Hospital.
Results
Among 207 patients with MPN, including 129 essential thrombocytosis (ET), 68 polycythemia vera (PV), and 10 primary myelofibrosis (PMF), three patients (1.4%) developed an aggressive non-Hodgkin Lymphoma (NHL) (Table).  Among 207 patients with MPN 15 patients (7.2%) received ruxolitinib.  Two of three patients developing NHL had a history of ruxolitinib treatment.  There was significant difference in the incidence of NHL occurrence between MPN patients with ruxolitinib treatment (2/15, 13.3%) and those without ruxolitinib treatment (1/192, 0.5%) (Fisher's exact test, P=0.014).  Initial symptoms of lymphoma were extra-nodal mass (cutaneous or colon mass) in two patients with ruxolitinib treatment.  Times from starting ruxolitinib treatment to the diagnosis of lymphoma in these two patients were 2 and 16 months, respectively.  They did not achieve complete response by anti-lymphoma chemotherapy, and died from AML.  In contrast, the DLBCL patient without ruxolitinib achieved complete response and is still alive.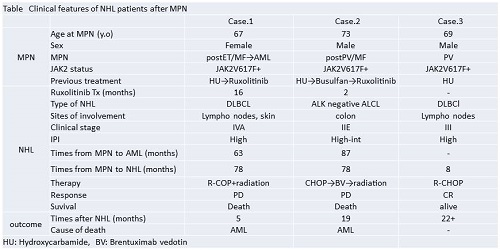 Conclusion
The occurrence of lymphoma was more common in patients with ruxolitinib than in the non-administered group. Porpaczy et al reported that pre-existing B-cell clones in myelofibrosis developed to B-cell lymphoma after ruxolitinib treatment.  In the present cases, lymphoma occurred within relatively short period after starting ruxolitinib treatment, suggesting that there were pre-existing lymphoma clones before ruxolitinib treatment.  Extra-nodal site involvements were seen in present cases similar to the previous reports, suggesting biological difference of lymphoma complicated with MPN patients.  Unlike previous report, one T-cell lymphoma case was included in the present study.  It remains unclear whether there is difference in clinical features and  mechanisms between B-cell lymphoma and T-cell lymphoma development in MPN patients with ruxolintinib treatment.  It may be underestimated to the occurrence of lymphoma if biopsy may not perform depending on the condition of patient.  We need to careful watch and actively examine the tumor in MPN.
Session topic: 16. Myeloproliferative neoplasms - Clinical
Keyword(s): Janus Kinase inhibitor, Malignant lymphoma, Myeloproliferative disorder