Abstract: PS1462
Type: Poster Presentation
Presentation during EHA24: On Saturday, June 15, 2019 from 17:30 - 19:00
Location: Poster area
Background
Patients with myeloproliferative neoplasms (MPNs) have a higher risk than the general population of developing a lymphoid neoplasm (Rumi et al, Haematologica 2011). It is still unclear whether this holds true for non-hematological second primary malignancies (SPMs) (Frederiksen et al, Blood 2011; Susini et al, Blood 2012). However, among 20,250 MPN patients included in the Surveillance, Epidemiology, and End Results Program (SEER) database, the 10-year cumulative incidence of SPMs was 12.7%, significantly higher than that expected in the general U.S. population (Brunner et al, Leuk Lymphoma 2016). Ruxolitinib (RUX) is an oral JAK1/2 inhibitor approved for the treatment of myelofibrosis (MF). Recently, Porpaczy et al (Blood 2018) alerted on the possible risk of aggressive lymphomas developing in MPN patients treated with JAK inhibitors including RUX, even though patient selection bias complicates interpretation.
Aims
To assess SPM occurrence in RUX-treated MF patients on the basis of real world data (RWD) provided by the health authority of Regione Lombardia, complemented with institutional data.
Methods
Lombardy, a region of roughly 10 million individuals, has a well-established network for hematology (Rete Ematologica Lombarda, REL), with a specific commission for MPNs. Within the REL we conducted an ambispective observational study (RUXOREL-MF) including all MF patients treated with RUX, i.e. 215 subjects regularly followed at 17 centers. The study was approved by the Review Board of each Institution and conducted in accordance with the Declaration of Helsinki. Incidence rates were computed from the number of events versus the time at risk after RUX start. Time-to-event analyses used Kaplan-Meier estimators, log-rank tests and cause-specific Cox models based on time elapsed after RUX start.
Results
Main patient characteristics according to SPM (excluding non-melanoma skin cancer, NMSC) occurrence are summarized in Table 1. Median follow up from diagnosis of MF was 61.5 months (interquartile range, IQR, 34.1-97.3). Median follow up from RUX start was 24.2 months (IQR 12.6-40.4). Forty-nine (22.8%) patients died, two due to the SPM. Median overall survival from RUX start was 78.7 months. 27 cases of SPMs were reported prior to RUX start, with no case of lymphoma. 24 cases of SPMs occurred after RUX start (lung, 1; breast, 3; prostate, 2; bladder, 1; melanoma, 1; multiple myeloma, 1; NMSC, 13; other, 2). The incidence rate of SPMs post-RUX was 4.3 per 100 pt-years (95% CI 2.7-6.5), whereas it was 1.7 per 100 pt-years (95% CI 0.8-3.2), when excluding NMSCs from the analysis. Median time to SPM diagnosis after RUX start was 16.9 months (IQR 6.9-21.5) and 19.8 months (IQR 16.3-36.7) when excluding NMSCs. Cumulative incidence of SPMs (excluding NMSCs) after RUX start is reported in Fig. 1. Patients with a SPM pre-RUX were at higher risk of developing a SPM post-RUX (HR 3.6, 95% CI 1.1-11.0, p=0.02). Significance was lost if the analysis excluded NMSC (HR 3.8, 95% CI 0.8-18.7, p=0.08).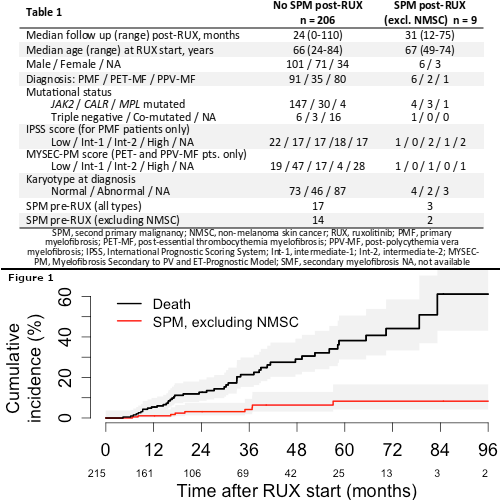 Conclusion
Our RWD offer a unique opportunity to provide real world evidence on the incidence of SPMs in MF patients receiving RUX. In our cohort no case of lymphoma was registered with a median follow up after RUX start matching the median time to lymphoma occurrence reported in the aforementioned publication. Incidence of SPMs after RUX start was 4.3 per 100 pt-years and 1.7 per 100 pt-years when excluding NMSC. A matched control study including MF patients not receiving RUX is ongoing and will be presented at the EHA meeting.
Session topic: 16. Myeloproliferative neoplasms - Clinical
Keyword(s): Myelofibrosis, Ruxolitinib, Second malignancy