Abstract: PS1461
Type: Poster Presentation
Presentation during EHA24: On Saturday, June 15, 2019 from 17:30 - 19:00
Location: Poster area
Background
Mastocytosis refers to a group of clonal disorders characterized by abnormal proliferation of mast cells infiltrating various tissues, especially skin and hematopoietic organs. Clinical presentation is heterogeneous and may vary from skin-limited disease to more aggressive variants. The clonal nature of mastocytosis has been largely demonstrated by the identification of gain-of-function mutations in exon 17 causing constitutive activation of the c-KIT protooncogene. In the large majority of patients with systemic disease a somatic aspartate-to-valine substitution in codon 816 (D816V) of the KIT gene is demonstrable. Typically, mastocytosis is considered a non-hereditary disease, although clustered cases were reported in pediatric series with an estimated frequency of 8-10%, in the absence or presence of c-KIT mutations, generally located outside the exon 17. Prevalence data about familial cases in adults are lacking. To our knowledge, somatic D816V KIT mutation was reported only in two adult clusters and in two pediatric familial cases.
Aims
In this retrospective, observational, multicenter study we sought: a) to estimate the prevalence of familial disease in a series of 1541 patients with mastocytosis referred in adulthood (>16 years old) to 8 Italian Institutions, and b) to describe the clinical and molecular characteristics of clustered cases.
Methods
Diagnosis of mastocytosis was made according to the 2016 World Health Organization criteria. All patients were asked for the occurrence of the same disease in relatives. Clinical and molecular data were recorded in all patients and in the affected relatives, when available.
Results
Familial occurrence of mastocytosis was reported in 22 patients (1.4% of the whole cohort). Clinical and molecular characteristics are reported in table I. Index cases were 12 males and 10 females, median age at diagnosis was 43 years (range 16-65 years). Diagnosis in index patients was systemic mastocytosis (SM) (n=15), mastocytosis in the skin (MIS) (n=3), and maculo-papular cutaneous mastocytosis (MPCM) (n=4). All but one SM patients harbored D816V KITmutation. Each index case reported a single affected relative: they were 14 males and 8 females, with median age at diagnosis of 20 years (range 0-70 years). Diagnosis in relatives was SM (n=7), MIS (n=3), MCPM (n=6) and Mastocytoma (n=6). The relationship between index and relatives was mainly "parent and child" (41%) and "siblings" (27%). Notably, 4 SM patients had one child who developed single or multiple mastocytoma; in other two families index and/or relatives developed an associated hematological neoplasia.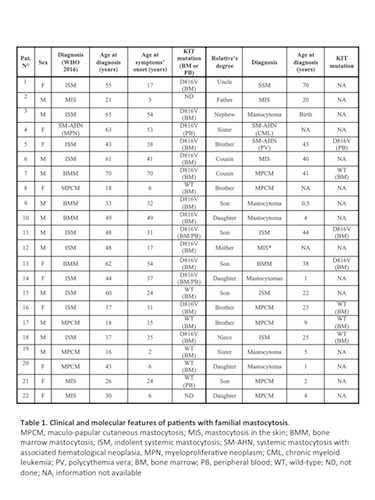 Conclusion
To our knowledge, this is the largest report about the prevalence and the characteristics of familial cases in an adult population of patients with mastocytosis. Familial occurrence of mastocytosis with different clinical and molecular characteristics between indices and relatives suggests that D816V KIT mutations may be a secondary genetic event. Further studies, including search for mutations in all patients with skin-limited disease and genotyping of D816V-mutated patients, are needed to confirm our hypothesis.
Session topic: 16. Myeloproliferative neoplasms - Clinical
Keyword(s): Familial, Mast cell, Mastocytosis, Prevalence