Abstract: PS1460
Type: Poster Presentation
Presentation during EHA24: On Saturday, June 15, 2019 from 17:30 - 19:00
Location: Poster area
Background
Janus kinase (JAK) 1/2 inhibitors (JAKi) are the mainstay of treatment for symptomatic myelofibrosis (MF). Research to date has primarily focused on predicting which patients are unlikely to have durable responses. Despite approximately half of patients discontinuing therapy by three years, data on the type of JAKi failure and associated long term outcomes is limited. Furthermore, standardized criteria for determining JAKi failure is difficult to apply in clinical practice and greater understanding of this area is needed to assist treatment decisions.  
Aims
To describe the type of JAKi failure and to associate failure type with time to treatment failure (TTF) and overall survival (OS). We also explored whether baseline clinical and disease characteristics including molecular enhanced integrated scoring systems, predicted type of treatment failure
Methods
Patients with chronic phase MF and treated with JAKi therapy were included in the study. Type of failure was defined as: transformation to accelerated or blast phase; hematological toxicity including thrombocytopenia (sustained platelet count <50) or new onset transfusion dependence (≥6 units in 12 weeks); or spleen progression/loss of spleen response (as per revised IWG-MRT criteria). Molecular analysis was performed by targeted sequencing using a 54 myeloid gene panel. TTF and OS endpoints were estimated by using Kaplan-meier method. Univariate and multivariable analysis was performed using Cox proportional hazards model.
Results
One hundred patients (median age: 68yrs) with a diagnosis of chronic phase MF (2 pre-fibrotic MF; 48 overt MF; 27 PPV-MF; 23 PET-MF) and treated with JAKi therapy (77 ruxolitinib; 23 momelotinib) were eligible. With a median follow-up of 3.5yrs, 69 (69%) patients failed JAKi therapy. Reasons included: transformation to accelerated or blast phase (n=12), hematological toxicity (n=17) due to thrombocytopenia (n=9) or transfusion dependence (n=8) and spleen progression/loss of spleen response (n=40). Thirty one patients did not fail Jaki therapy: nine patients continue on JAKi therapy (median duration: 4.6yrs, range: 4.0-8.1yrs) with sustained clinical improvement; five patients proceeded to allogeneic stem cell transplant after clinical response; two patients were lost to follow-up; 15 patients discontinued JAKi therapy due to non-hematological toxicity while responding (secondary malignancy = 4,  sepsis = 3, acute kidney injury = 3, neurological = 2, other = 3).
On univariate analysis, type of treatment failure was associated with OS (p=0.05) and became more significant on multivariable analysis (p=0.01). Patents with failure due to spleen progression/loss of response had the longest median OS following treatment failure at 1.2yrs, as compared to hematological toxicity (median OS: 0.7yrs; HR: 1.71) and transformation to accelerated/blast phase (median OS: 0.3yrs; HR: 2.22) (p<0.001)(Figure 1). Baseline clinical variables, complete blood count parameters and prognostic scores including MIPSS70, MIPSS70-plus, were not associated with type of treatment failure. There was no correlation between reason for JAKi failure and TTF. Other variables associated with shorter TTF and OS included: pre-treatment transfusion dependence (p=0.01; p=0.04), higher MIPSS70 (p=0.003; p=0.01) and higher MIPSS70-plus (p=0.002; p=0.01).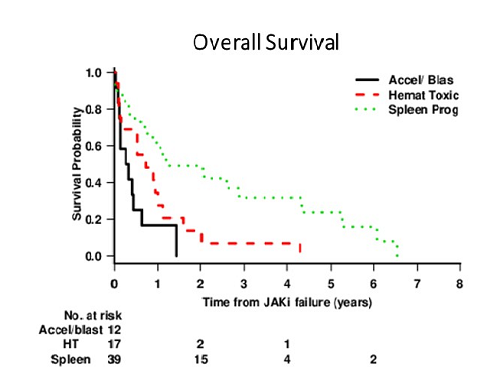 Conclusion
This study provides a greater understanding of the outcomes for patients failing JAKi therapy. Information obtained may assist the clinician in determining future management of these patients and provide enhanced guidelines for JAKi failure. 
Session topic: 16. Myeloproliferative neoplasms - Clinical
Keyword(s): Janus Kinase inhibitor, Myelofibrosis, Survival, Treatment