Abstract: PS1459
Type: Poster Presentation
Presentation during EHA24: On Saturday, June 15, 2019 from 17:30 - 19:00
Location: Poster area
Background
MF is a serious, life-threatening MPN characterized by bone marrow fibrosis, splenomegaly, cytopenias, and poor survival. RUX is the only approved treatment (Tx) for Intermediate (Int) or High-risk MF. FEDR is an oral, selective inhibitor of wild-type and mutant JAK2. The published JAKARTA-2 study demonstrated ≥35% spleen volume reduction (SVR) in 55% of efficacy eligible FEDR-treated patients (pts) who were resistant or intolerant to RUX per investigator assessment, using a last-observation-carried-forward (LOCF) analysis method.
Aims
To confirm the efficacy of FEDR in the JAKARTA-2 study by employing ITT principles and a more stringent definition of RUX failure than used in the previous analysis (Fig. A). The primary endpoint was re-analyzed in a subset of JAKARTA-2 pts who were relapsed/refractory (R/R) or intolerant to RUX per the more stringent definition (RUX Failure cohort). Additionally, a sensitivity analysis was performed on a subset of pts in the RUX Failure cohort who had received 6 cycles of FEDR or who had discontinued FEDR before end of cycle 6 (EOC6) for reasons other than study halted by sponsor (Sensitivity cohort).
Methods
Pts previously treated with RUX with Int- or High-risk primary, post-polycythemia vera (PV), or post-essential thrombocythemia (ET) MF, spleen size ≥5 cm below the costal margin, ECOG PS ≤2, and platelet counts ≥50 × 109/L were enrolled. Pts received a FEDR starting dose of 400 mg QD in continuous 28-day cycles. The primary endpoint was spleen volume response rate (SVRR): ≥35% SVR from baseline (BL) at EOC6, per blinded central review. A key secondary endpoint was symptom RR (≥50% decrease in total symptom score [TSS] from BL on the MF Symptom Assessment Form [MFSAF]) at EOC6.
Results
Of 97 pts enrolled and treated with FEDR, the RUX Failure cohort comprised 79 pts (81%) who met more stringent criteria for RUX R/R (n=65, 82%) or intolerance (n=14, 18%). Demographics, baseline disease characteristics, and prior RUX Tx were generally similar between the ITT population and both the RUX Failure and Sensitivity cohorts. In the RUX Failure cohort, median age was 66 yrs (range 38–83), 60% of pts had primary MF, 23% post-PV MF, and 18% post-ET MF. Median BL spleen volume was 2946 mL and median spleen size was 18.0 cm (range 5–36). Median prior RUX Tx duration was 11.5 months (range 1.0–62.4).
Median number of FEDR cycles received was 7 (range 1–20). SVRR in the RUX Failure cohort was 30% (95%CI 21, 42), markedly consistent with results observed in the ITT population [31% (95%CI 21, 41)]. All pts with BL and EOC6 data (n=41) showed SVR (Fig. B). At EOC6, symptom RR was 27% (95%CI 17, 39); 36/44 evaluable pts (82%) had TSS improvements (Fig. C). 66 pts met criteria for the Sensitivity cohort; SVRR was 36% (95%CI, 25, 49) and symptom RR was 32% (95%CI 21, 45).
Most common grade ≥3 hematologic TEAEs were anemia (44%) and thrombocytopenia (20%), and grade ≥3 nonhematologic TEAEs were increased lipase (6%), and diarrhea and ALT increase (4% each). TEAEs led to discontinuation for 20% of pts and to dose interruption/reduction for 51% of pts. Six pts died on-study; no death was considered Tx-related.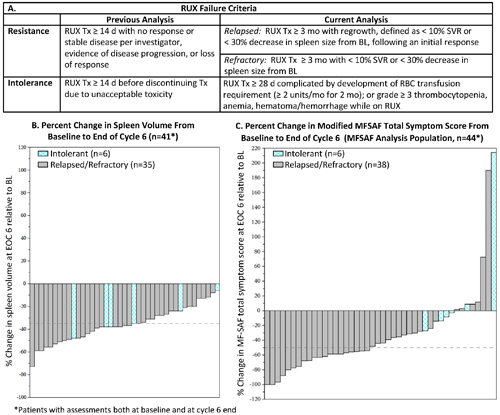 Conclusion
FEDR provided clinically meaningful reductions in splenomegaly and symptom burden in pts with MF for whom RUX had failed. Importantly, data were markedly similar in a cohort of pts who met stringent criteria for prior RUX failure, and efficacy was confirmed in the sensitivity analysis. Safety in this heavily pretreated population with advanced disease was consistent with prior reports.
Session topic: 16. Myeloproliferative neoplasms - Clinical
Keyword(s): Myelofibrosis, Refractory, Ruxolitinib