Abstract: PS1431
Type: Poster Presentation
Presentation during EHA24: On Saturday, June 15, 2019 from 17:30 - 19:00
Location: Poster area
Background

Prognostic evaluation of Multiple Myeloma (MM) by FISH is focused on high risk (HR) cytogenetic aberrations, namely t(4;14), t(14;16) and deletion of 17p13. Hyperdiploid MM (HRD-MM), instead, that accounts for about 50% of newly diagnosed MM, is not routinely investigated because multiple probes are required to test over the conventional markers. However, in the era of novel agents, the identification of hyperdiploidy may be helpful in MM prognostication since trisomic MM is responsive to lenalidomide treatment and retains a favourable outcome.
Aims

The aim of our study was to elaborate a flow chart of FISH prognostic assessment of MM that, beside the analysis of conventional high risk abnormalities, allows to identify those cases with favourable prognosis within hyperdiploid MM.
Methods
Bone marrow of 292 patients affected by newly diagnosed MM was studied by conventional karyotype (CK) and on separated plasmacells by FISH for HR cytogenetic aberrations including t(4;14), t(14;16), 17p13 deletion and 1q21 gain. Patient's characteristics including ISS stage, symptoms at diagnosis, type of treatment and OS were collected.
Results

Among our entire cohort, CK was productive in 76 patients and based on the number of chromosome of clone (47-57 chromosomes) 50 patients (66%) were classified as hyperdiploid. All patients received treatment with novel agents, including bortezomib (99%), lenalidomide (70%) or both (70%). 
Of note, cytogenetic classification of HRD-MM, beyond the definition of ploidy, includes a heterogeneous group characterized not only by numerical abnormalities, but also by several structural aberrations. Therefore, even the ploidy level was not enough to characterize hyperdiploid MM. As a matter of fact, within HRD-MM patients, high risk chromosomal changes were detected in 26/50 (52%) cases, including 21 (42%) with gain 1q, one with t(4;14) and 8 (16%) with 17p deletion. Finally, 20 (40%) patients displayed an IgH translocation. Major features associated to decreased OS were trisomy 19 (32 vs 62 months, p=0.0194), gain 1q (30 vs 56 months, p=0.0371), and IgH translocations (33 vs 57 months, p=0.0285) (Figure 1A to C).
Provided that definition of HRD-MM is based on trisomies of odd chromosomes, we further classified our patients according to the number of trisomies in cases with > 5 trisomies (trisomic HRD-MM, T-HRD-MM) and cases with < 5 trisomies (non trisomic HRD-MM, N-HRD-MM). The group with > 5 trisomies (n=26) was characterized by lower rates of overall FISH alterations (<2, 92% vs 31%, p=0.0001). More in detail, lower frequencies of IgH translocations (23% vs 75%, p=0.0014) and HR FISH changes (5% vs 50%, p=0.0023) were detected. Even monosomy 13 was less represented in this subset of patients (15% vs 69%, p=0.008) as compared to N-HRD-MM.  Interestingly, concomitant trisomy of 9, 11 and 15 chromosomes was described in 53% of T-HRD-MM patients but it was completely absent in N-HRD MM group (p=0.0002), indicating that in our cohort these three numerical changes represent the most powerful signature to identify HRD MM. Finally, T-HRD MM subset displayed better outcome towards N-HRD MM (57 vs 32 months, p=0.001, Figure 1D).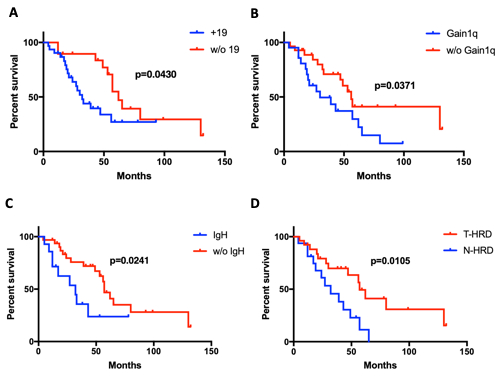 Conclusion

In our cohort of patients the combination of banding analysis and FISH for HR aberrations identify some genetic features that correlate with the presence of true hyperdiploid clone. In fact, less than two FISH aberrations, absence of HR aberrations and IgH translocation and the concomitant presence of trisomies of chromosome 9, 11 and 15 identify the hyperdiploid MM subset characterized by a favourable outcome.
Session topic: 14. Myeloma and other monoclonal gammopathies - Clinical
Keyword(s): Multiple myeloma