Abstract: PS1430
Type: Poster Presentation
Presentation during EHA24: On Saturday, June 15, 2019 from 17:30 - 19:00
Location: Poster area
Background
Four colour multiparameter flow cytometry (4MFC) is widely available and easier to apply than conventional minimal residual disease methods, although less sensitive.
Aims
Our objective was to integrate 4MFC results in a clinical model to predict relapse/progression free survival (R/PFS) and time to next treatment (TNT) after upfront autologous stem cell transplant (ASCT) in a resource limited setting.
Methods
Single center retrospective review of 146 consecutive MM patients with 4MFC bone marrow (BM) evaluation at day 100 after upfront ASCT with melphalan conditioning between 2008 and 2016. The 4MFC panel included CD38, CD138, CD45, CD19 and CD56. CD38+, CD138+ plasmocytes (PC) with (CD45±)CD19-CD56+ or CD45-CD19-(CD56±) were considered abnormal. Baseline PC 4MFC was only available in 50% of patients and was not considered for this analysis. Multivariate Cox regression analysis was performed to elect statistically significant variables to integrate R/PFS (either biochemical or clinic) and TNT clinical models at 3 years (y) after ASCT.
Results

Median follow-up after ASCT was 43 months (interval 2-126). At diagnosis, median age was 58y (interval 36-70), 56% were male, 23% had hypercalcemia, 15% renal insufficiency, 41% anemia, 67% lytic lesions and 33% plasmacytomas. Induction regimens included a proteasome inhibitor (PI) in 62%, immunomodulator (IMiD) in 6%, IP and IMiD in 24% and neither in 8%. At day 100 after ASCT, 57% had a complete remission, 32% a very good partial remission (VGPR) and 11% had

In multivariate analysis, kidney insufficiency at diagnosis, >0.25% BM PC at day 100 and detection of abnormal BM PC at day 100 impacted on R/PFS at 3y. Different risk groups for relapse/progression were defined according to the presence of 0, 1 or >1 of these characteristics (median R/PFS not reached versus (vs) 24 vs 14 months, respectively; p<0.001; Figure 1A). In multivariate analysis, the three characteristics above and also age >58y impacted on TNT at 3 years. Three groups with distinct timings for second line treatment were defined according to the presence of 0-1, 2 or >2 of these risk factors (median TNT not reached vs 24 vs 16 months, respectively; p<0.001; Figure 1B).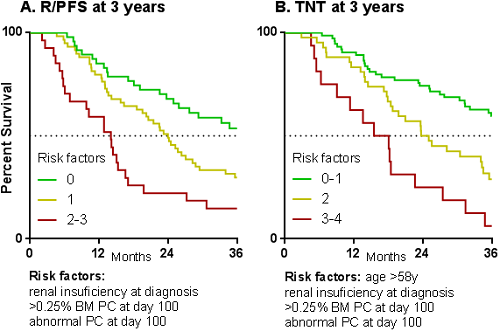 Conclusion
The addition of BM 4MFC PC analysis at day 100 after upfront ASCT to clinical characteristics identifies subgroups of MM patients with increased risk for relapse/progression and need for second line treatment, which may require different post-ASCT observation. Further efforts are needed in order to validate and integrate affordable end of treatment disease burden evaluation in resource limited settings.
Session topic: 14. Myeloma and other monoclonal gammopathies - Clinical
Keyword(s): Autologous hematopoietic stem cell transplantation, Prognostic groups, Progression