Abstract: PS1429
Type: Poster Presentation
Presentation during EHA24: On Saturday, June 15, 2019 from 17:30 - 19:00
Location: Poster area
Background

According with the Spanish National Institute of Statistics (2017), 25.4% of Spanish households are formed by a single person and this trend is increasing in recent years. The outcome of patients with newly diagnosed multiple myeloma (NDMM) who live alone is not well known.
Aims

To assess the impact in terms of overall survival (OS) and early mortality (EM) of NDMM patients who live alone, either voluntarily or not.
Methods

All consecutive patients with the variable of interest available on clinical records and included in the population-based Granada Myeloma Registry (Ríos-Tamayo et al, 2015) until the end of 2018 are reported. Comparisons for categorical variables among different groups were made with the x2-test. Comparisons of means of quantitative continuous variables between two groups were made with the t-test. OS curves were estimated using the Kaplan-Meier method, and comparisons among groups were carried out with the log-rank test.
Results

200 patients were evaluated, 117 men (58.5%) and 83 women. 35 patients (17.5%) lived alone at diagnosis, 19 men and 16 women. There was a trend to better OS for patients with some caregiver available with respect to patients who live alone (p=0.074) (Figure 1). Median age for patients living alone was 68.74 vs 62.1 years (p= 0.006). Weight loss was documented in 18/35 (51.4%) vs 53/163 (32.5%) (p=0.077). No statistical differences were shown between groups for other variables (body mass index, number of comorbidities, sex, ECOG, ISS, Light-chain only MM and High-Risk FISH). There were not statistically significant differences in EM at 6 months (6.8% vs 11.8%; p=0.3).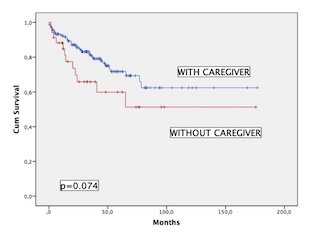 Conclusion

Patients with NDMM who live alone represent approximately 17.5% and have to face a huge challenge, showing a trend to poorer OS in comparison with patients who have a caregiver. This poor outcome may be due in part to a more advanced age. However, we cannot rule out other factors such as a poor adherence to the treatment.
Session topic: 14. Myeloma and other monoclonal gammopathies - Clinical
Keyword(s): Epidemiology, Multiple myeloma, Survival