Abstract: PS1423
Type: Poster Presentation
Presentation during EHA24: On Saturday, June 15, 2019 from 17:30 - 19:00
Location: Poster area
Background
International Myeloma Working Group (IMWG) evaluates treatment response based on plasma cell percentage in bone marrow, amount of light chain, concentration of monoclonal protein assessed by immunofixation and/or protein electrophoresis. In 2016, IMWG newly adopted next-generation flow (NGF) as an additional assessment tool for the detection of MRD, but next-generation sequencing (NGS) for IgH rearrangement was not included.
Aims
In the present study, we conducted NGS of V(D)J rearrangements on multiple myeloma (MM) patients who did not achieve CR, yet showed NGF MRD negativity, to investigate the discrepant results.
Methods
A total of 35 myeloma patients under treatment was enrolled. We performed NGF with 8-color antibody panel using Navios flow cytometer (Beckman Coulter, USA) and Infinicyt software (Cytognos SL, Spain). IgH rearrangement NGS was performed using 'survey' level ImmunoSEQ assay (Adaptive Biotechnologies, USA) on each sample. Paired specimens at initial diagnosis BM and follow-up BM were subjected to NGS study. The results of sequencing data were processed by the ImmunoSEQ Analyser web-based relational database for analysis.
Results
Out of 11 patients who achieved CR or sCR, seven patients showed NGF MRD negativity (63.6%). Among 24 patients who failed to achieve CR, four patients (1 VGPR, 1 PR, 1 MR, and 1 SD) showed MRD negativity by NGF. In those four patients with discrepancy between IMWG treatment response and NGF results, we compared the results of IgH NGS on BM specimens at initial diagnosis with those after treatment. Of the four non-CR patients with NGF MRD negativity, all of the patients showed IgH rearrangement by NGS. NGS revealed a persistence of residual clone in one patient, an acquisition of new clones in two patients, and heterogenous clones in one patient. Patient with PR had same dominant clone both initial diagnosis BM (87.13%; proportion of clone) and follow-up BM (19.38%). Two patients (one with MR, the other SD) acquired new clones after treatment. Patients with MR had a newly appeared clone (1.49%) carrying DJ rearrangement which was non-productive, whereas dominant clones found in the three other patients were productive VDJ rearrangement. Patient with SD had newly appeared clones in follow-up BM (5.24%, 4.72%, 3.11%, 2.09%) which were absent in initial BM. The last patient, with VGPR, showed heterogeneous clones without a dominant clone at follow-up BM by NGS. Results including laboratory tests are summarized in Table 1.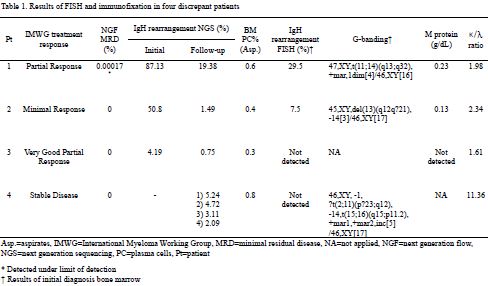 Conclusion
IgH rearrangement NGS revealed malignant clones in 100% of patients who did not achieve CR, but showed NGF MRD negativity. These results suggest that IgH rearrangement NGS can detect malignant clones which may not be identified by NGF. Immunophenotype switching may contribute to this escape of neoplastic plasma cells from NGF monitoring in non-CR patients. Complementary NGS test is needed to detect such drifting clones for monitoring of MRD in MM.
Session topic: 14. Myeloma and other monoclonal gammopathies - Clinical
Keyword(s): Flow cytometry, Minimal residual disease (MRD), Multiple myeloma