Abstract: PS1419
Type: Poster Presentation
Presentation during EHA24: On Saturday, June 15, 2019 from 17:30 - 19:00
Location: Poster area
Background
Triplet regimens (TpRs) with a bortezomib-based backbone have traditionally been the most commonly used triplets in RRMM in United States (US). The advent of novel proteasome inhibitors (PIs), immunomodulators (IMIDs), and monoclonal antibodies in MM are rapidly shifting the RRMM treatment paradigm. Lack of head-to-head trials of novel agents versus bortezomib-based triplets used for registration purposes renders treatment choice for RRMM patients (pts) difficult, highlighting a need for real-world evidence.
Aims
To conduct a comparative effectiveness real-world analysis of triplet regimens containing bortezomib (B), carfilzomib (C), daratumumab (D), or ixazomib (I) in RRMM.
Methods
RRMM pts with ≥1 prior line of therapy (LOT) initiating a TpR on/after 1/1/2014 were followed retrospectively in Optum's de-identified electronic health record dataset (2007-2018) - a large US database. TpRs were categorized into B-,C-,D-,I-based; treatment groups were mutually exclusive. Median duration of therapy (DOT) and time-to-next-treatment (TTNT) were estimated using Kaplan-Meier methods and compared using stratified (by LOT) ± confounder adjusted Cox proportional hazard models. We used a repeated measures analysis of pt-LOTs with robust sandwich estimators to account for inclusion of pts in multiple LOTs. Observations were censored at time of loss to follow up (f/u)/end of study period (3/31/2018). A separate subgroup analysis of LOTs 2-3 was also performed.
Results
Overall, 1345 pts with 1753 pt-LOTs (B-based, n=746; C-based, n=522; D-based, n=269; I-based, n=216) were included. B-/C-/D-/I-based TpRs consisted of an alkylator in 38/27/6/6% or an IMID-backbone in 58/71/93/94% (lenalidomide, 47/42/37/71%; pomalidomide, 7/28/55/21%; thalidomide, 4/1/1/2%), respectively; 81/60/37/63% pts received B-/C-/D-/I-based TpRs in LOT 2-3. Median age was 70/65/68/69 years and 33/20/25/38% pts were ≥75 years old in the B-/C-/D-/I-based TpR group, respectively. CRAB symptoms were more common in the B-/C-/D- (82/87/84%) than in the I-based group (64%) at baseline. Overall, more pts in the C- (26%) had high risk disease (del 17p and/or t(4;14) and/or t(14;16) and/or 1q21 gain), followed by D- (23%) vs in B- (16%) and I-based groups (14%), although 62/64/69/75% pts in each group had missing cytogenetic risk data. More pts in the D-based group (87%) were IMID and/or PI refractory, followed by C- (84%), I- (65%), and B-based (38%) groups. Double refractory status was present in 7/31/23/23% pts in the B-/C-/D-/I-based groups. Overall, at median f/u of 16.3/13.3/8.6/10.2 months (mos) in the B-/C-/D-/I-based groups, unadjusted median DOTs were: 8.0/6.0/7.1/8.4 mos and TTNTs were: 9.8/6.7/8.0/11.1 mos, respectively. In the subgroup analysis (LOT 2-3), unadjusted median DOTs in the B-/C-/I-based TpRs were: 8.4/6.3/8.4 mos and TTNTs were: 10.8/7.8/12.7 mos, respectively, and not estimable in the D-triplet group.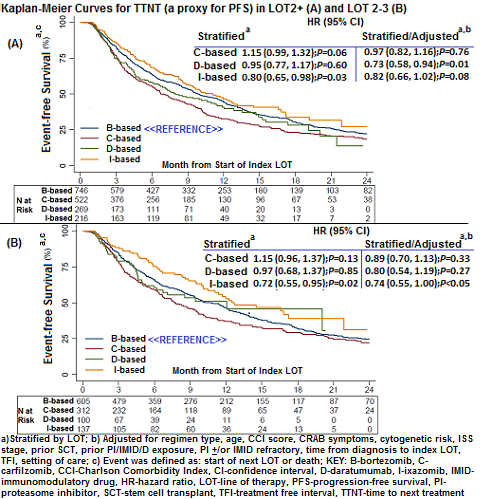 Conclusion
In stratified analyses, compared to B-, I-based triplets had a significantly decreased risk of starting next LOT/death in LOTs 2+ overall, and in LOTs 2-3.  After further adjusting for baseline confoundersb, I- and D-based triplets reduced the risk in LOTs 2+ overall, and in LOTs 2-3, I-based triplets significantly reduced the risk of starting next LOT/death versus B-based triplets. Limitations include residual confounding due to unobserved treatment selection biases that are inherent to any non-randomized, observational study. Further research into therapy sequencing, as the RRMM treatment landscape evolves, is necessary.
Session topic: 14. Myeloma and other monoclonal gammopathies - Clinical
Keyword(s): Immunomodulatory thalidomide analog, Monoclonal antibody, Proteasome inhibitor, Treatment