Abstract: PS1414
Type: Poster Presentation
Presentation during EHA24: On Saturday, June 15, 2019 from 17:30 - 19:00
Location: Poster area
Background
The management of relapsed myeloma continues to evolve including the dose and schedule of carfilzomib (carfil) with increasing use of once weekly (QW) IV carfil as opposed to twice weekly (BIW) administration. Selinexor in combination with dexamethasone (dex) has demonstrated a 26.2% ORR in pts with triple-class refractory myeloma (defined as refractory to an immunomodulatory imide drug [IMiD], proteasome inhibitor [PI] and anti-CD-38 monoclonal antibody [mAb]) including deep responses with 6 very good partial response (VGPR) and 2 pts in a stringent complete response (sCR) (minimal residual disease negative). Jakubowiak et al.have previously demonstrated that BIW selinexor can be safely combined with BIW carfil with an ORR of 63% (ASH 2016).Given the increasing use of QW carfil, we have initiated a phase 1 study to determine the recommended phase 2 dose(RP2D) of QW selinexor in combination with carfil/dex.
Aims
The primary objectives of the study were to determine the maximum tolerated dose (MTD), RP2D, and to assess the safety, tolerability, and preliminary efficacy of the combination of SKd in pts with RRMM.
Methods
This is amulticenter, open-label study. Pts whose MM is relapsing, is not refractory to carfil, and may have had prior PI exposure were eligible. Selinexor was dosed QW at 80 or 100 mg. Carfil was dosed QW at 56 mg/m2or 70 mg/m2. Dex was given at 40 mg QW.
Results
As of February 20th, 2019, 9 pts were enrolled in the study.  Of these, 3 were male and 6 were female. The median age was 71 years (range 50 – 76) and the median number of prior treatments was of 4 (range 2 – 8) prior treatment regimens. All 9 pts were carfil naïve. Seven of 9 pts were refractory to prior treatment with bortezomib. Eight pts were refractory to prior lenalidomide (len) or pomalidomide (pom) treatment including 3 pts refractory to both len and pom. Five pts were refractory to prior dara treatment. Six dose limiting toxicities (DLTs) were observed, which can be seen in Table 1. Common treatment-related Grade 1/2 adverse events (AEs) included: nausea (6 pts), anemia (3 pts), fatigue (3 pts), and leukopenia (3 pts). Grade 3/4 AEs included: thrombocytopenia (5 pts), hyperglycemia (2 pts), and anemia (2 pts). Eight pts were evaluable for response and the ORR was 75% including (1 complete response, 4 VGPR, 1 unconfirmed VGPR); the patient with unconfirmed VGPR is still on study. Two pts had stable disease. One pt is pending response evaluation. As of February 20th, 6 pts remain on treatment.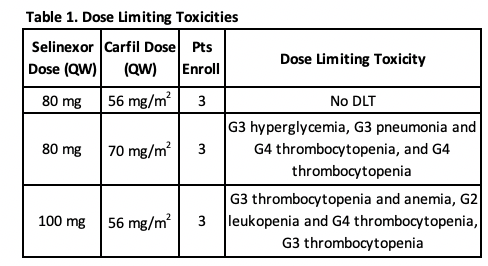 Conclusion
The combination of SKd has demonstrated encouraging preliminary activity with an ORR of 75%. No unexpected AEs were noted. Phase 1 dose escalation of the combination of SKd will define the optimal RP2D.
Session topic: 14. Myeloma and other monoclonal gammopathies - Clinical
Keyword(s): Multiple myeloma, Proteasome inhibitor, Tumor suppressor