Abstract: PS1407
Type: Poster Presentation
Presentation during EHA24: On Saturday, June 15, 2019 from 17:30 - 19:00
Location: Poster area
Background
Carfilzomib (Kyprolis®) has shown an improved overall survival and a good tolerability in two phase 3 studies (ENDEAVOR, ASPIRE) in patients (pts) with relapsed or refractory multiple myeloma and, thus, received market approval in the combination regimens carfilzomib/lenalidomide/dexamethasone (CAR/LEN/DEX) and carfilzomib/dexamethasone (CAR/DEX). CAR is intended to be given twice weekly in both regimens. In daily practice, poor adherence and persistence to anticancer treatment are serious issues as nonadherence has been shown to lead to higher treatment failure rates, worse outcome and higher total costs of care.
Aims
The key objective of the CARO study is to collect real-world data on the implementation of the recently approved regimens CAR/LEN/DEX and CAR/DEX in routine clinical practice in Germany with a special focus on treatment adherence.
Methods
The prospective, multicenter, non-interventional CARO study was designed to collect data on 300 pts with multiple myeloma from 90 sites across Germany. The primary objective is pts' adherence to the CAR therapy as prescribed by the treating physician. Secondary objectives are pts' adherence to LEN and DEX as well as the evaluation of the implementation of the recommended dosing regimens, i.e. a comparison of the actually administered medication versus recommended medication according to current Summary of Product Characteristics (SmPC). Exploratory objectives are effectiveness, safety and health-related quality of life. The first interim analysis of the CARO study was scheduled 12 months after the recruitment of the first patient.
Results
From 10/2016 through 10/2017, 102 pts have been enrolled, thereof 68 pts into the CAR/LEN/DEX cohort and 32 pts into the CAR/DEX cohort. Here, the focus is on the implementation of the recommended dosing regimen in pts who received CAR/LEN/DEX (N=64). Median age of pts was 72.3 years (range 43.4–84.3), 45.3% were female and 70.3% of pts had a good performance status with a Karnofsky performance score between 80 and 100. The mean relative dose intensity of CAR was 88.1%. 1368 of the scheduled 1591 CAR administrations (86.0%) were given on time. 7.9% (n=125) of administrations in 43.8% (n=28) of pts were omitted, 5.0% (n=80) of administrations in 62.5% (n=40) of pts were delayed and 1.1% (n=18) of doses in 18.8% (n=12) of pts were administered earlier than planned. 1328 of 1466 CAR administrations (90.6%) were given at the recommended dose. 6.2% (n=91) of doses in 23.4% (n=15) of pts were reduced, 3.2% (n=47) of doses in 7.8% (n=5) of pts were increased. For reasons refer to Figure 1. The mean adherence to the CAR dosing regimen, i.e. the percentage of doses administered as scheduled by the treating physician and not modified for adherence reasons, was 94.8%.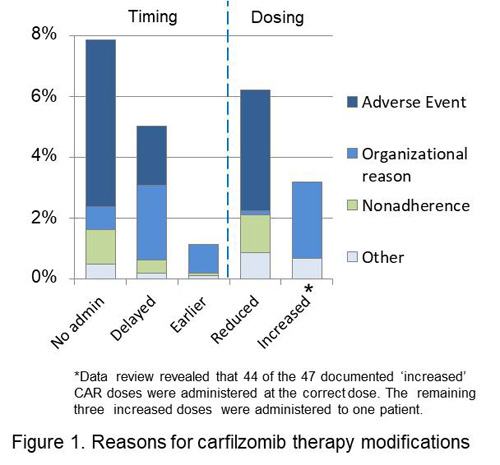 Conclusion
According to our interim results, 86% of CAR administrations were given as scheduled and more than 90% of administrations were given at the recommended dose. Modifications of the recommended CAR regimen were mainly due to safety issues or organizational reasons, but not due to lack of adherence. Though, despite the required twice weekly dosing schedule, the CAR regimen appears to be a well-accepted treatment by multiple myeloma pts. Results need to be confirmed in the final analysis.
Session topic: 14. Myeloma and other monoclonal gammopathies - Clinical
Keyword(s): Myeloma, Proteasome inhibitor