Abstract: PS1402
Type: Poster Presentation
Presentation during EHA24: On Saturday, June 15, 2019 from 17:30 - 19:00
Location: Poster area
Background
Multiple myeloma (MM) is a frequent hematologic malignancy. Despite the important advances in treatment strategies during the last decades, the gold standard remains being a proteasome inhibitor (PI)-based induction, followed by autologous stem cell transplant (ASCT).
In Latin America (LA) there is great heterogeneity in access to new drugs and ASCT, and there is scarce data regarding patient´s outcomes in the region.
Aims
The aim of this study was to describe clinical characteristics and outcomes of MM transplant eligible patients in LA countries.
Methods
Retrospective international multicenter cohort study. Unselected consecutive MM transplant- eligible patients diagnosed between 2010 and 2018 from participating centers in Chile, Argentina and Uruguay were included. Data was collected from clinical records in a standardized report form. We analyzed clinical characteristics at diagnosis and frontline therapy outcomes, including ASCT.
Transplant-eligible patients were defined as fit patients younger than 66 years old. Response to treatment was defined according to current IMWG criteria.
Statistical analysis was performed by using STATA 13.
Results
Six hundred and seventy one patients were included in the study, 282 from Chile, 258 from Argentina and 131 from Uruguay. The main characteristics are shown in Table 1. Significant differences in access to PI induction and ASCT were found between private and public institutions, with patients from the latter receiving suboptimal frontline therapy. Optimal response (sCR, CR and VGPR) was achieved in 51% of the patients in the CyBorD group, in 65% in the VTD group, and in 45% in the CTD group, the 3 main induction regimens used. Only 52% of patients finally underwent ASCT. With a median follow up of 33 months (range 1-109),  5 year overall survival (OS) was 58,4%, with a median survival of 73 months in the whole cohort. When analyzed according to induction treatment, 5 year OS was 74% for PI-based, 48% for thalidomide-based, and 23% for those not treated with novel agents (P<0,0001). In the multivariable analysis, not undergoing ASCT (p<0,001), renal failure (p=0,004), hypercalcemia (p=0,001), and achieving less than VGPR (p=0,001) response were independent factors associated with worse outcome.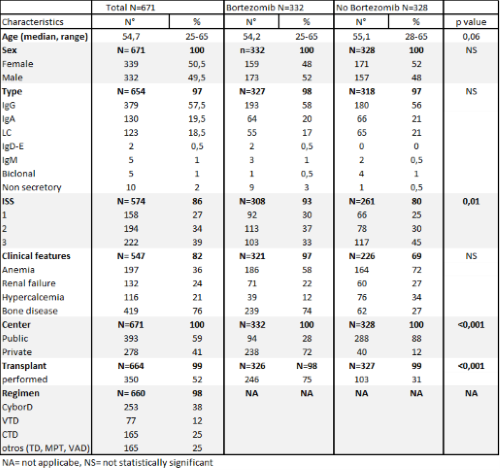 Conclusion
Survival in transplant-eligible patients is lower than the "optimal" described survival in other regions. Unequal access to PI-based regimens and therefore to ASCT between public and private centers was observed. Reasons for 48% of candidates not being transplanted merit further analysis.
Session topic: 14. Myeloma and other monoclonal gammopathies - Clinical
Keyword(s): Autologous bone marrow transplant, Bortezomib, Multiple myeloma, Thalidomide