Abstract: PS1398
Type: Poster Presentation
Presentation during EHA24: On Saturday, June 15, 2019 from 17:30 - 19:00
Location: Poster area
Background

Immunoparesis is the suppression of polyclonal immunoglobulins and is present in about 85% of patients diagnosed of multiple myeloma (MM). Our group recently demonstrated that the normalization of polyclonal immunoglobulins after autologous stem cell transplantation (ASCT) is a predictor factor for longer progression-free survival (PFS) and overall survival (OS). However, the impact of this factor in patients who are ASCT-ineligible has not been determined yet.
Aims

The aim of this study was to determine the immunoparesis status of ASCT-ineligible multiple myeloma patients at diagnosis; and its impact, along with its normalization with induction treatment, on prognosis.
Methods

This study retrospectively analyzed 210 patients from different centers from our region diagnosed of MM between 1998 and 2017. Data were collected at diagnosis, and 1, 2 and 3 months since the beginning of treatment, and then at intervals of 3 months until progression or a maximum of 36 months. Immunoparesis was defined as at least a 25% decrease in one or more polyclonal immunoglobulins relative to the lowest limit of normality in each laboratory.
Results
The evaluation of the baseline characteristics of the patients included in the study showed that Immunoparesis was present in 81.7% of patients at diagnosis, with similar distribution among the different isotypes of MM: IgG (82.5%), IgA (78.9%) and light chain MM (78.5%);p=0.730. Patients presenting with immunoparesis had higher percentage of aberrant plasma cells within the plasma cell bone marrow compartment. There was no significant correlation between the presence of immunoparesis and sex, age, FLC ratio, ISS, R-ISS,LDH, cytogenetics or leukocytes.
As far as treatment is concerned, 53.3% of the patients received a PI-based treatment, 5.2% an IMID-based treatment, 4.8% both and 36.7% any conventional treatment without novel agents.
Patients with normal levels of uninvolved immunoglobulins had a significantly higher CR rate with respect to those presenting with immunoparesis (33.3% vs 19.5%;OR=2.061;95%CI:0.957-4.436;p=0.061). This was independent of the treatment received.
Among patients presenting with immunoparesis at diagnosis, 43 of them (25.3%) did recover the polyclonal immunoglobulins during the 36 months follow-up, with a median time to recovery of 9 months. There was no difference between immunoparesis recovery and the type of treatments received.
Immunoparesis recovery was associated with better quality of responses: 46.5% of patients with recovered immunoparesis achieved CR, vs only 10.3% of patients with persistent immunoparesis (OR=7.559;95%CI:3.297-17.331;p=0.000).
Most interestingly, PFS was significantly longer in the group of patients who did recover immunoparesis (32 months) versus those with persistent immunoparesis (16 months), HR=0.353;95%CI:0.229-0.543;p=0.000. The same association was observed with OS (82 vs 31 months; HR=0.342;95%CI:0.204-0.574;p=0.000). To rule out the potential influence of the response to treatment in the recovery of immunoparesis, we also performed a Landmark analysis at 9 months, that was the median time to recover the polyclonal immunoglobulins. This analysis confirmed the previous data with a PFS of 32 vs 23 months; HR=0.458;95%CI:0.290-0.722;p=0.000 and an OS of 82 vs 48 months; HR=0.447;95%CI:0.256-0.782;p=0.004.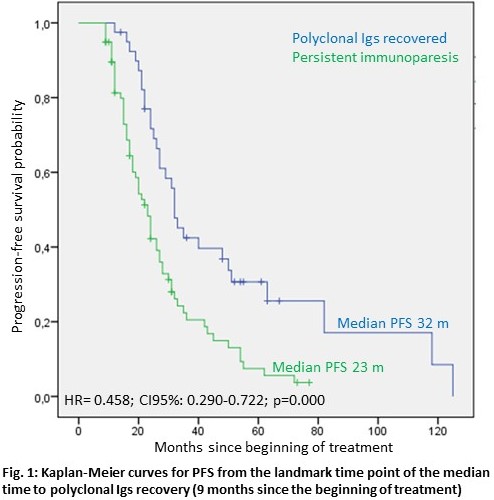 Conclusion

Our study suggests that the presence of immunoparesis at diagnosis is only associated with higher clonal plasma cell bone marrow infiltration. The recovery of immunoparesis after treatment, is a surrogate marker predicting better response and significantly longer PFS and OS.
Session topic: 14. Myeloma and other monoclonal gammopathies - Clinical
Keyword(s): Age, Immunoglobulin, Myeloma, Progression