Abstract: PS1397
Type: Poster Presentation
Presentation during EHA24: On Saturday, June 15, 2019 from 17:30 - 19:00
Location: Poster area
Background
Previous literature has established "long-term survivors" as patients who survive greater than 10 years from diagnosis of active multiple myeloma (MM). With the rapid discovery and evolving use of novel therapeutic agents, a greater proportion of patients are reaching this milestone. Although these patients share in their extended survival, they also constitute a heterogeneous group in terms of treatments and outcomes. 
Aims
The aim of this study is to examine a large cohort of long-term survivors with protracted follow-up as an attempt to identify a subset of patients within ten-year survivors who have longstanding disease remission, and examine the predictors of their especially exceptional prognosis.
Methods
All patients with active MM evaluated at Mayo Clinic, Rochester between January 1, 1999 and July 1, 2008 were included in the study. Patients with MGUS, smoldering MM, and solitary plasmacytoma were excluded. The overall survival (OS) was calculated from time of symptomatic disease requiring treatment. Patients with greater than 10 year survival from diagnosis were then divided into three cohorts based upon treatment and remission status: Cohort 1 included patients off therapy ≥ 5 years and in sustained remission, Cohort 2 included patients on maintenance therapy ≥ 5 years and in sustained remission, and Cohort 3 included patients who had relapsed within the past 5 years. Differences between the groups were compared using Wilcoxon, Chi-square, and Fisher's exact test as applicable. "Early" stem cell transplant was defined as patients who received a stem cell transplant within one year of diagnosis.
Results
During the time frame of the study, 2,125 patients were identified who fulfilled the diagnostic criteria for active MM. Three-hundred ninety nine (19%) had survived at least 10 years from diagnosis. Among these patients, based on the available data regarding remission and ongoing treatment status, 332 patients were categorized into three cohorts, seen in Table 1.  Sixty patients (18% of long-term survivors) comprised Cohort 1, 48 patients (14% of long-term survivors) comprised Cohort 2, and 224 patients (68% of long-term survivors) comprised Cohort 3.  Sex difference was statistically significant between the groups, with more females constituting Cohorts 1 and 2 (p=0.03). Within Cohort 1, 77% of patients underwent an autologous stem cell transplant (ASCT).  The median progression free survival following ASCT in this cohort was not reached (95% CI 15–NR, p<0.001).  In addition, patients in Cohort 1 and Cohort 2 were more likely to undergo an early ASCT as compared to patients in Cohort 3 (p=0.002). There were no significant differences in high or intermediate risk FISH/cytogenetics at diagnosis, ISS at diagnosis, or induction therapies used at diagnosis among the three groups.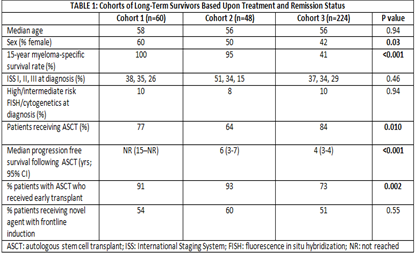 Conclusion
Our study identified a small subset (3% of all patients diagnosed with active MM) of long-term survivors who are off of therapy and remain in sustained longstanding remission. Female sex, progression free survival following ASCT, and receiving an early ASCT were factors that portended a positive prognosis amongst long term survivors.
Session topic: 14. Myeloma and other monoclonal gammopathies - Clinical
Keyword(s): Multiple myeloma, Survival